On the street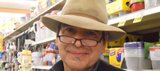 In general there should probably be a penalty that would involve some period of incarceration.
Topeka — Family members of hit-and-run victims in Lawrence on Thursday urged legislators to increase penalties against drivers who flee the scene of an accident.
Ryan Crum, whose father, Thomas Crum, was killed in a hit-and-run accident in 2008, said, "There are unfortunately people in this world who can live with leaving someone on the side of the road to suffer and to ultimately die."
Jeffrey Stolz, whose sister-in-law Rachel Leek was hit and killed in 2009 while riding her bike, said, "Unfortunately, it is becoming common knowledge in Kansas that fleeing the scene prevents law enforcement from acquiring the necessary evidence required to prove intoxication as the cause of the accident."
And Michael Kanost, whose son Ryan Kanost was killed in 2006 while a student at Kansas University, said the current laws "provide an incentive (for) drunk drivers to leave the scene of an accident."
Their testimony, and that of law officials, including Douglas County District Attorney Charles Branson, was in support of House Bill 2044, which increases the penalties for drivers who flee accidents in which serious injury or death occurs.
The measure is before the House Corrections and Juvenile Justice Committee. Chairwoman Pat Colloton, R-Leawood, said the committee will "work on this bill in an expeditious manner."
In the case of serious injury, the punishment for an offender with no criminal history would increase from the current range of five to seven months in prison to seven to nine months. Most would be sentenced to probation.
In the case of a fatal accident, the punishment for an offender with no previous criminal history would increase from five to seven months to 31 to 34 months, and most would face prison time.
Branson said that often drivers who are driving under the influence leave the scene of an accident in order to allow drugs or alcohol to dissipate from their system, making it impossible to prosecute for driving under the influence.
Sarah Fertig, executive director of the Kansas Sentencing Commission, said that if enacted, the tougher penalties would probably result in four more people going to prison in the next fiscal year.
House Democratic Leader Paul Davis of Lawrence said, "There is a deficiency in Kansas law here. Right now in Kansas, a drunk driver can operate a vehicle, kill an individual through reckless driving, flee the scene of an accident and not do one single day of prison time."
Committee member Robert Brookens, R-Marion, questioned whether the bill would cause more people to stay at the scene of an accident.
"Do you truly think we will encourage more people to stop than are currently, or is this a punishment bill?" Brookens asked.
And others questioned whether the state would be imprisoning some people, such as young drivers, simply because they panicked and fled.
Karen Wittman, an assistant attorney general, said the bill would give courts wide discretion in whether to send someone to prison.
Copyright 2018 The Lawrence Journal-World. All rights reserved. This material may not be published, broadcast, rewritten or redistributed. We strive to uphold our values for every story published.