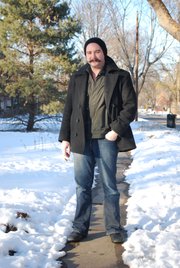 Name: Joshua E. Huskisson 
Age: 30
Sign: Gemini 
Occupation: Photography & Design, themeadowlarkandmockingbird.com.
Hometown: Memphis TIGERS
Time in Lawrence: 11 Months
What were you doing when you were scouted? Walking downtown in the snow.
How would you describe your style? Pretty basic — boots, jeans, t-shirt, coat, big moustache. 
What are your favorite fashion trends? Girls wearing high heels in the ice and snow — it's fascinating watching them try to navigate. 
What are your least favorite fashion trends? Men's pleated pants. 
What would you like to see more of in Lawrence? Buddah Stalin, man, he's the chronic!
What would you like to see less of in Lawrence? Parking meters. (Joking, Deb!)
Do you have any piercings/tattoos? I do.
Do you have any fashion influences? I love The Sartorialist and classic men's clothing. 
People say I look like... In sports bars, Rollie Fingers. In artsy corners, Dali. With family, a hobo. 
Tell us a secret: I stole the TV. 
Copyright 2018 The Lawrence Journal-World. All rights reserved. This material may not be published, broadcast, rewritten or redistributed. We strive to uphold our values for every story published.