Photo Gallery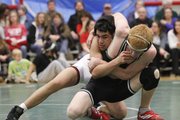 Free State wrestling vs. LHS
Lawrence High senior Cameron Magdaleno and Free State High sophomore Spencer Wilson saw plenty of each other in the LHS wrestling room last year.
While Wilson was still at LHS wrestling junior varsity, the two sparred together often, and each knows the other's technique and style on the mat quite well.
In what ended up being the match of the night in Wednesday's dual between the Lions and Firebirds, Magdaleno and Wilson found themselves staring one another down.
"I was almost feeling sick in the beginning," Magdaleno said. "Just because he's ranked number two in our weight class."
Six minutes later and with a raucous crowd behind him, Magdaleno felt a bit better, as he knocked off Wilson — the No. 2 160 pounder in 6A — as part of the Lions' 59-11 victory over the Firebirds at FSHS.
"He knew what was coming," FSHS coach Mike Gillman said of Magdaleno, who beat Wilson in a 7-3 decision. "He was smart."
Magdaleno worked his game plan well, and though he never dominated, he got ahead and controlled Wilson throughout the third period after scoring a takedown.
"(Wilson) is pretty savvy on his feet," LHS assistant coach Randy Streeter said. "We told Cameron, if you can stay out of the tie, you can beat him."
Magdaleno even bloodied Wilson's nose. The FSHS sophomore actually showed it off with a sense of pride after the match, calling it "his first ever."
Overall, the No. 6 Lions proved too much for the Firebirds.
Freshman Garrett Girard started the night off by topping Drew Botello, 1-0, at 103 pounds.
Girard, the fifth-ranked 103 pounder and one of five Lions ranked in the top six in 6A, and Botello scrapped their way to a near standstill, but a second-round escape earned Girard the victory.
At 125 pounds, LHS sophomore Hunter Haralson, the top ranked 119 pounder, impressively dropped Maurice Jacobs and pinned him in just over 20 seconds.
FSHS took wins by decisions at 130 and 135 by Andrew McLees and Ben Soukup, respectively, but didn't score again until a forfeit at 285 pounds.
The Lions, meanwhile, scored pins by Levi Florschutz (145), Andrew Denning (152), (171) Reece Wright-Conklin and Ben Seybert (189). Brad Wilson notched a resounding 17-2 win at 215 pounds.
Wright-Conklin, the reigning 6A champ at 160 pounds and current top-ranked 171 pounder, was impressive in his own right.
The junior secured an easy first-round pin after a swift and powerful takedown, but was more pleased with the match immediately before his own.
"That's what was mainly the match I wanted to see," Wright-Conklin said, grinning widely. "I'm proud of (Magdaleno). He did good."
After being congratulated by Wilson, Magdaleno smiled and enjoyed the win momentarily, but kept things in perspective.
"We're just trying to build up for next month (and state tournament)," he said.
Copyright 2018 The Lawrence Journal-World. All rights reserved. This material may not be published, broadcast, rewritten or redistributed. We strive to uphold our values for every story published.