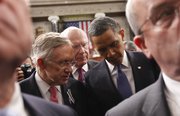 Washington — Pleading for unity in a newly divided government, President Barack Obama implored Democratic and Republican lawmakers to rally behind his vision of economic revival for an anxious nation, declaring in his State of the Union address Tuesday night: "We will move forward together or not at all."
The president unveiled an agenda of carefully balanced political goals: a burst of spending on education, research, technology and transportation to make the nation more competitive, alongside pledges, in the strongest terms of his presidency, to cut the deficit and smack down spending deemed wasteful to America. Yet he never explained how he'd pull that off or what specifically would be cut.
Obama spoke to a television audience in the millions and a Congress sobered by the assassination attempt against one if its own members, Rep. Gabrielle Giffords. Her seat sat empty, and many lawmakers of competing parties sat together in a show of support and civility. Yet differences were still evident, as when Democrats stood to applaud his comments on health care and tax cuts while Republicans next to them sat mute.
In his best chance of the year to connect with the country, Obama devoted most of his hour-long prime-time address to the economy, the issue that dominates concern in a nation still reeling from a monster recession — and the one that will shape his own political fortunes in the 2012 election.
Eager to show some budget toughness, Obama pledged to veto any bill with earmarks, the term used for lawmakers' pet projects. House Speaker John Boehner and other Republicans applauded. But Obama's promise drew a rebuke from his own party even before he spoke, as Senate Majority Leader Harry Reid, D-Nev., said that the president had enough power and that plans to ban earmarks were "a lot of pretty talk."
Obama's proposals Tuesday night ranged across the scope of government: cutting the corporate tax, providing wireless services for almost the whole nation, consolidating government agencies and freezing most discretionary federal spending for the next five years.
Obama entered the House chamber to prolonged applause and to the unusual sight of Republicans and Democrats seated next to one another rather than on different sides of the center aisle. And he began with a political grace note, taking a moment to congratulate Boehner, the new Republican speaker of the House.
Calling for a new day of cooperation, Obama said: "What comes of this moment will be determined not by whether we can sit together tonight but whether we can work together tomorrow."
On a night typically known for its political theater, the lawmakers sometimes seemed subdued, as if still in the shadow of the Arizona shootings.
Many in both parties wore black-and-white lapel ribbons, signifying the deaths in Tucson and the hopes of the survivors. Giffords' husband was watching the speech from her bedside, as he held her hand.
Obama conceded that everything he asked for would prompt more partisan disputes. "It will take time," he said. "And it will be harder because we will argue about everything. The cost. The details. The letter of every law."
In a speech with little focus on national security, Obama appeared to close the door on keeping any significant U.S. military presence in Iraq beyond the end of the year. "This year, our civilians will forge a lasting partnership with the Iraqi people while we finish the job of bringing our troops out of Iraq," the president said.
The president reiterated his call for a comprehensive immigration bill, although there appears little appetite for it Congress. Another big Obama priority that stalled and died in the last Congress, a broad effort to address global climate change, did not get a mention in the State of the Union. Nor did gun control or the struggling effort to secure peace in the Middle East.
After dispensing with all the policy, the president ended in a sweeping fashion.
"We do big things," the president said. "The idea of America endures."
Copyright 2018 The Associated Press. All rights reserved. This material may not be published, broadcast, rewritten or redistributed. We strive to uphold our values for every story published.