A Lawrence architect who has been an advocate in the Centennial neighborhood became the fifth and final candidate for April's Lawrence City Commission elections.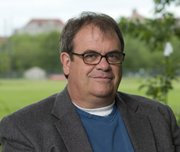 Sven Alstrom filed just minutes before the noon deadline on Tuesday. Alstrom said he plans to run a campaign that focuses on supporting more locally owned business and making City Hall a friendly place for neighborhoods.
But he also said the small field of candidates for the City Commission played a role in his decision.
"I just wanted to do something to enliven the debate a bit," said Alstrom, who is a former member of the city's Historic Resources Commission.
Issues that he plans to focus on during the campaign include:
• A greater economic development focus on supporting existing businesses. Alstrom said the idea has been dubbed "economic gardening" in other communities.
"It basically means growing the businesses that we have," Alstrom said.
• Guarding against urban sprawl. Alstrom said he aligns himself with many of the views presented by Kirk McClure, a Kansas University professor in urban planning who says the city's housing and retail markets have become overbuilt.
• Support for environmental sustainability efforts. Alstrom said the city and county's addition of a sustainability coordinator position has been an important step forward for the community.
Alstrom, 59, has lived in Lawrence the past eight years. He owns and operates a Lawrence-based architecture practice, Ecological Architecture, that does design work for residential, remodels and historic preservation projects. He served on the city's Historic Resources from 2004 to 2007, and also has been an active member of the Centennial Neighborhood Association, which has voiced concerns about several improvements the school district undertook at Lawrence High.
Three at-large seats are up for election on the five member City Commission. The four other candidates are: Hugh Carter, a financial planner and former Lawrence-Douglas County Planning Commissioner; incumbent Commissioner Mike Dever, who also owns a Lawrence environmental consulting firm; Mike Machell, a human resources manager and chair of the city's Library Board; and Bob Schumm, a downtown restaurant owner and former mayor and city commissioner.
Copyright 2018 The Lawrence Journal-World. All rights reserved. This material may not be published, broadcast, rewritten or redistributed. We strive to uphold our values for every story published.