The new year has only just begun — so don't get caught up in the same old, boring outfits! Read on for advice and suggestions to mix up your style with a few new looks.
College girl:
Whether you are heading back to school or not, mix up your daily attire by incorporating the preppy, collegiate wardrobe pieces of a university student into your own outfits. Pick out clean, striped sweaters in saturated, traditional colors. Pair tops with crisp, blue wide-leg trouser jeans or modest, calf-length skirts. Accessorize your look with leather school bags and satchel purses. The traditional simplicity of this look is refreshing and bound to inspire you or bring your thoughts back to a creative, academic mindset.
Now: Wear lace-up boots or oxford flats with tights to winterize your outfit.
Later: Come spring, wear traditional flats or wooden platforms sans tights to complete this look.
Glam chick:
If you just aren't over your studded belts, patent accessories, leather jackets and black skinny jeans, fear not! Replace your rocker/hard-edge fashion pieces with a few trendy items that have a similar appeal. To update your look, incorporate red leather clothing and animal-print accessories. Search out heels, belts, and clutches with metallic details, lace accents or subtle snake motifs. Also, look for shoes with studded soles instead of more visible stud detailing. These small updates will keep your glam-style cutting-edge and modern. Look up Haider Ackermann's Spring 2011 collection for more examples and ideas to vamp up your wardrobe.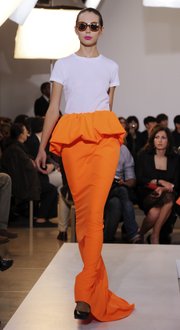 Neon dreamer:
This season, acidic colors and bright, neon hues are everywhere, used to create versatile wardrobe pieces and clothing designs that suit a similarly diverse range of styles. For those with a more traditional take on style, wear classically cut clothing in a variety of nontraditional, bright shades. By maintaining a sophisticated shape, your look will still come off as appropriate and elegant; however, the new dose of color pushes your look to a new level, suggesting an adventurous, up-to-date fashion outlook. Wear neon cardigans over bright blue, geometric pencil skirts, and add bold, colorful flats and belts of different hues to complete your outfit. No so traditional in your dress? No worries! Seek out bright clothing in more unusual, modern shapes. Find bright wide-leg pants and sporty, neon-striped tops. Pair your neon tops and bottoms with opposites in basic colors — for example, a bright orange, asymmetrical skirt with a crisp white top.
By using one basic dose of color, you will provide pleasant ground for a variety of additional bright colors. So, next, add accessories only of different, neon hues. See Jonathan Saunders Spring 2011 and Jil Sander Spring 2011 for two different but equally bright collections.
Copyright 2018 The Lawrence Journal-World. All rights reserved. This material may not be published, broadcast, rewritten or redistributed. We strive to uphold our values for every story published.