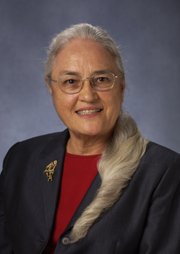 Your daily dose of news, notes and links from around Kansas University.
• Here's some Heard on the Hill kudos to a member of the KU staff who will be headed to Washington next week to pick up an award from President Barack Obama.
Marigold Linton, director for American Indian outreach in the Office for Diversity in Science Training, will receive a presidential award for excellence in science, mathematics and engineering mentoring.
It's the first time anyone from KU has received such an award. Eleven people and four organizations received the award nationally.
As director of American Indian outreach at KU, she has led a collaborative team from KU and Haskell Indian Nations University, and obtained more than $13 million in research training support from the National Institutes of Health for Haskell and KU students, according to a KU press release.
• A member of the "Memphis State Eight" who integrated Memphis State University in the fall of 1959 and later earned a degree at KU has died.
Sammie Burnett Johnson, 71, died at her home in Grandview, Mo.
She left Memphis State University (today known as the University of Memphis) after only one year, but still left behind a lasting legacy there.
The Memphis Commercial-Appeal said Johnson was "in many ways their leader, bold and assertive, speaking up when others were afraid."
After leaving Memphis State, she got married and graduated from the University of New Mexico, and later earned a master's degree in business administration from KU.
The group of eight students went through orientation separately from the other students, the newspaper reported and a dean asked them if they expected to make friends.
"We came here for an education and to be respected. And if we make friends, that's good," she said, according to another member of the eight.
• Kim Hubbel, administrative associate in the department of physics and astronomy, is my new favorite person on campus.
That's because she actually responded to my call last week for her to tell me something I didn't already know.
And she did magnificently.
Perhaps responding to a Heard on the Hill commenter, she first told me that she had no relation to the differently spelled Hubble telescope, though a physics and astronomy professor had worked on the telescope, replacing its faulty mirror.
I told Kim that I knew that much.
But then, she went on to tell me that physics professor Dave Besson is in a band called Shannon's Dress.
I naturally zipped off to the Internet and found a large profile on him, done in the University Daily Kansan back in 2006.
Apparently, his research involves watching particles explode in large particle accelerators, and he's even been to Antarctica to see what happens when you hurl particles at ice molecules.
But in his spare time, he plays in bands, including one that apparently got a mention in Rolling Stone magazine.
That's a neat tip. Thanks, Kim.
• Don't make me call out more people. Who's got a better tip than Kim? Tell me stuff I don't already know at ahyland@ljworld.com, and we'll all make the world a better place. Or at least a more informed one.
Copyright 2018 The Lawrence Journal-World. All rights reserved. This material may not be published, broadcast, rewritten or redistributed. We strive to uphold our values for every story published.