Name: Mercedes Loftin
Age: 23
Sign: Sagittarius
Occupation: Stylist at Green Room Salon
Hometown: Kansas City, Kansas
Time in Lawrence: 4 years.
What were you doing when you were scouted? Working at Green Room.
How would you describe your style?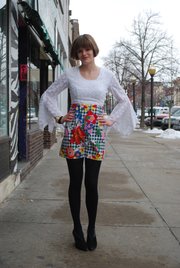 I like to mix vintage and new, and most of the time I opt for comfort/weather appropriate apparel — but I love to get dressed up!
What are your favorite fashion trends? At the moment, high-waisted jeans.
What are your least favorite fashion trends? People who go to the store in pajamas! PJs are for home, for bedtime—not for shopping.
What would you like to see more of in Lawrence? Vintage/thrift stores, roller skating rinks, and more things to do downtown besides go to bars.
What would you like to see less of in Lawrence? Again, people shopping in PJs. I'd also like to see fewer KU gear shops.
Do you have any piercings/tattoos? Yes, and yes.
Do you have any fashion influences? Everyday people on the street who have unique taste.
People say I look like... Kate Bosworth, and when I had a blonde pixie I got Agyness Deyn a lot.
Tell us a secret: Secrets don't make friends!
Copyright 2018 The Lawrence Journal-World. All rights reserved. This material may not be published, broadcast, rewritten or redistributed. We strive to uphold our values for every story published.