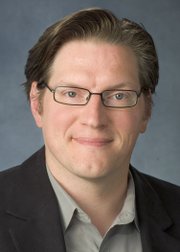 A Kansas University professor has announced his candidacy for a seat on the Lawrence school board.
Keith Diaz Moore, 44, is an associate professor and associate dean of graduate studies in the School of Architecture, Design and Planning at KU.
"As a parent and from a philosophical viewpoint, I just view education as the best investment we can possibly make," he said.
Moore lives at 1738 Barker Ave. with his wife, Laura Diaz Moore, who is an attorney, and two children, Zoe, 8, and Oliver, 5.
He serves on the Cordley Site Council and worked with the grassroots advocacy group Save Our Neighborhood Schools.
In the process of attending school board meetings for more than a year, Moore said he noticed that the board often seemed as if it didn't have enough time to review its materials, and would seem to be making reactive decisions.
Moore called for a more holistic approach to ensure that all decisions — and budgetary investments — fit within a framework of a larger vision to improve education.
"What we need to remember is what a budget is," Moore said. "It reflects our values. It just does it in dollar terms."
As a member of the school board, Moore said he would seek to take an active role in advocating for the district with Topeka lawmakers.
He said schools would benefit from more community programs, potentially including partnerships with the library or with senior citizens' groups.
Two other candidates, Marlene Merrill and Shannon Kimball, have filed for the four seats up for election on April 5.
The filing deadline is noon Jan. 25, in the clerk's office at the Douglas County Courthouse, 1100 Mass.
Copyright 2018 The Lawrence Journal-World. All rights reserved. This material may not be published, broadcast, rewritten or redistributed. We strive to uphold our values for every story published.