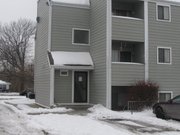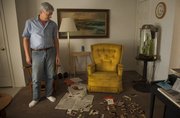 Related document

Baby John Doe articles ( .PDF )
It didn't seem all that unusual for a box to be sitting in the stairwell of Jana Cook and Kathleen Zans' apartment complex 25 years ago Wednesday.
Classes were starting up again, and students were doing the semi-annual apartment shift around Lawrence. That included the women's apartment complex, which still stands at 2400 Ala.
"We'd gone by that box all day," Cook said.
But after a few hours, the roommates looked inside the box and found a newborn baby, umbilical cord still attached. More than two decades later, the case of the abandoned baby — who would now be a grown man — remains something of a local mystery. Those involved in the case reflect on what happened to the infant, while one Lawrence man seeks to reunite with the person he believes is his son.
'Just the kind of baby everyone wants'
When Cook and Zans found the baby, which paramedics estimated to be just hours old, it wasn't moving.
"We didn't know if it was dead or alive," said Cook, who, with Zans, was a Kansas University student at the time.
They called 911, and the newborn, referred to as Baby John Doe, turned out healthy, endearing himself to the nursing staff at Lawrence Memorial Hospital. A Jan. 21, 1986, front-page Journal-World article was headlined "Abandoned child wins hearts of nursing staff." He was described as "gorgeous" and "just the kind of baby everybody wants."
The child's birth parents never came forward in the case, and the community watched closely as the baby worked his way through the legal system, looking for a permanent family.
"There were just hundreds of people calling SRS wanting that baby," said former Douglas County District Judge Jean Shepherd, who handled the case and eventual adoption.
Shepherd, 25 years later, remains one of the few people who know what happened to the baby. But strict confidentiality laws prevent her from saying much about the adoption, and the adoption case file remains sealed.
Looking for a son
Lawrence resident Ron Holzwarth has spent the last few years trying to find Baby John Doe. And as Holzwarth thumbed through old photos and newspaper articles about the case at his apartment recently, he said he believes he's the baby's biological father.
"No question," Holzwarth said, though he can present only circumstantial evidence for his claim.
The day the baby was found, Holzwarth, who lived across the street from the apartments, says he found a note on his door saying, "There's a package for you across the street." He didn't think much of it until he read stories about the baby in the newspaper. The note, along with some other circumstances, led Holzwarth to believe a woman he had a relationship with abandoned the baby. Holzwarth said he was unaware the woman was pregnant and he hadn't talked with her in months.
At the time, Holzwarth said he debated going to police, but decided against it.
"I alone had no way to support him, and I did not want him to be in the limbo of the foster care system," he said.
At this point, the only way to verify Holzwarth's claim would be a blood test, and that would require Baby John Doe to contact Holzwarth.
Every year since Baby John Doe turned 21, Holzwarth has placed an announcement in the Journal-World wishing him a happy birthday. In addition to a desire to reconnect after all the years, Holzwarth says he wants to convey some health-related information to the man, particularly about a genetic heart condition. Holzwarth remains active on websites such as www.adoption.com, where he posts information with the hope that someday Baby John Doe will come across the website and contact him.
Safe Haven Law
At the time the child was abandoned, Kansas didn't have an infant safe haven law. But in 2006, the state passed the Kansas Newborn Infant Protection Act that protects mothers from criminal charges if, instead of abandoning a baby, they "surrender" it to a fire station, health department or hospital. In Kansas, mothers have used the law three times, once in 2008 and twice in 2010, according to Bill Miskell, spokesman for the Kansas Department of Social and Rehabilitation Services.
Shepherd said the law was spurred by cases such as Baby John Doe, who spent his first few hours of life in a stairwell in the middle of winter.
Despite that rough start, Shepherd said, things probably turned out OK for him.
"This child probably does have a regular life and regular parents," she said.
Cook and Zans, who remain friends, said they kept up with the case at the time and even tried to visit the baby at the hospital, where they were questioned by authorities who suspected one of them might be the birth mother.
More than two decades later, the two occasionally talk about the mysterious baby they found back in college.
"We've always wondered what happened to him," Cook said. "He was a beautiful baby."
Copyright 2018 The Lawrence Journal-World. All rights reserved. This material may not be published, broadcast, rewritten or redistributed. We strive to uphold our values for every story published.