Audio Clips
Followtonians Podcast
On the street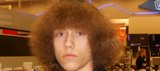 Yes, GNR. I just like the kind of randomness of it.
There may be an ocean between them, but they're united by one passion: football.
Or soccer, depending on which side of that ocean you're on.
Lawrence resident Eric Howell and friend Ped McPartland of Liverpool, England, have been working together since last June to build and brand their own sports podcast following Everton, a team in the English Premier League.
The two football fans first contacted each other via Twitter and from there hatched the plan to start a podcast, called the Followtonians, dedicated to the club.
It wasn't easy in the beginning, because of a lack of equipment and a lack of experience with recording and audio editing.
"We're doing it off two PCs with Skype," McPartland said. "We are literally running this off of two cans and a piece of string. In terms of technology, that's what we have."
But by spending their own money, they've been able to slowly upgrade their equipment and improve the quality of their episodes, of which they've now recorded 29. They post each session on the podcast's website, which was built by a member of their worldwide following: a fan in New Zealand.
Global audience
The show covers all things local and global for the club. The varied perspectives of an American and Liverpudlian add a unique twist to the podcasts. But keeping up with club action from around the world isn't easy for Howell. He spends a good portion of his Saturdays watching games on his laptop.
"There are no creature comforts in being an Everton fan in Lawrence, Kansas," Howell said.
Howell and McPartland spend their Thursday evenings, or Friday mornings in the UK, putting the weekly show together. The six-hour time difference makes things more difficult, but neither fan minds.
"It seems like I'm on American time a lot of the time," McPartland joked.
The duo's affinity for football has given them a chance to talk with former professional players and coaches as well as authors, media personalities and fans from around the globe.
The show has gotten even more publicity recently thanks to an exclusive interview with U.S. soccer star Landon Donovan. Donovan, who played for Everton while on loan from his MLS team, the Los Angeles Galaxy, made the decision not to return to Europe late in 2010.
For the new podcasters, the opportunity was a golden one and was taken advantage of using social media. The podcast's Twitter followers encouraged the interview.
"We didn't want to look like we were begging for ourselves," McPartland said. "So we got other people to beg on our behalf."
That strategy paid off and landed the Followtonians a world-exclusive interview.
"He almost seemed like he was more excited to explain his decision than we were to talk to him," Howell said. "It was pretty crazy."
That episode has gotten more than 14,000 hits since its release in late December. The high volume far exceeded the average 2,000 views their other episodes had netted. Quotes from the interview also made their way into Liverpool newspaper headlines as well as a story in the New York Post.
Football wives
The time McPartland and Howell dedicate to the podcast has been an adjustment for their wives, too. Tracie Howell said she's become an Everton fan through continued exposure to the team. She's worked her way into the podcast as well, lending her vocal stylings to the show's introduction. McPartland's wife is responsible for the closing credits.
"I figured they should include us somehow," Tracie said, smiling.
Looking ahead, the podcasters will continue their craft and look to improve on the work they've been doing.
"It's a hobby that we put a lot of commitment into, but until someone starts paying for it, we can't really see it as more than that," McPartland said. "We just want the show to get out there and be listened to."
Copyright 2018 The Lawrence Journal-World. All rights reserved. This material may not be published, broadcast, rewritten or redistributed. We strive to uphold our values for every story published.