-->
On the street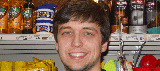 Probably Chinese, like Szechuan.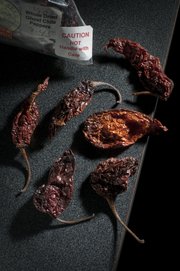 Esquina's Ghost Pepper Salsa Recipe
Esquina's Ghost Pepper Salsa Recipe as told to Stephen Montemayor by Simon Bates, co-owner of Esquina.
25 bhut jolokia (ghost chili) peppers 1/4 cup toasted cumin
1/4 cup tequila
3 fresh limes, squeezed
10 medium tomatillos
1 cup white vinegar
1/2 cup fresh garlic, chopped
2 cup garlic oil
1 medium white onion, diced Sea salt
Cook ingredients chilies, cumin, tequila, lime juice, tomatillos, garlic and onion down and blend with garlic oil and sea salt. Let chill and add water for desired consistency.
Even before dehydration, the bhut jolokia — or ghost chili — is savagely red when mature and contorts itself as if to show would-be diners its plans for their tongues.
If jalapenos pop, the bhut jolokia explodes.
Erik Cofer, assistant produce manager at Checker's Foods, 2300 Louisiana, said when tasted, the pepper first hits the back of the throat before running its numbing heat down the tongue. And he should know. Last summer Cofer grew 40 pounds of the peppers, which in the last year have popped up on grocery store shelves, in wicked salsas and, soon, in what promises to be the city's Bloodiest Mary.
"Habaneros are 'meh' to me now," Cofer said.
The Guinness Book of World Records agreed when it crowned the bhut jolokia the world's hottest pepper in 2007. And though a chili in England was recorded as spicier last month, the bhut jolokia has been enjoying a storied rise.
Originating in northeast India, the pepper was an apparition before 2000 to all but those who grew it and dined on it to ease, of all things, stomach ills and extreme heat. When it became known just how hot it was, chili-heads worldwide took notice.
The pepper has made its way into a myriad of sauces with skulls and "death" slapped on their labels. It's also been deemed "fit for use" by the Indian military for pepper grenades designed to smoke out terrorists.
In Lawrence, Vermont Street BBQ owner Chris Brann has been soaking the chilies in vodka to add heat to his smoked Bloody Marys and crank the volume on his homemade pickles up to 11.
"It's haat," Brann said of the chili, eschewing the generic "hot" long reserved for Tabasco sauce.
The spiciness of peppers is measured in Scoville units which indicate how much capiscum, the chemical compound responsible for the heat, is present in a pepper. Pure capsicum is 16 million units. A jalapeno is between 2,500 and 5,000 units. Original Tabasco is between 7,000 to 8,000 and the habanero (once the hottest known chili) notches between 350,000 to 577,000 units. The bhut jolokia? It's been recorded as high as 1,041,427 Scoville units, or about a fifth the potency of police-grade pepper spray.
Brann harvested seven chilies from a plant given to him from a friend. He said since the cold weather arrived and he moved the plant indoors, its been the hardest of his numerous plants to keep alive. But, still, it kicks.
"It's a pretty hardy little plant, I figured that much out," he said.
Brann uses one-fourth part cactus soil and three-fourths standard potting soil. He added a few stones for moisture control and has been resting the pot on a radiator near large windows producing ample sunlight. He's quick to add that his technique is more theory than science.
Brann said his bhut jolokia-infused vodka has few frills. Any plain vodka will do. He then crushes the peppers and lets them soak for a minimum of one month and no longer than three months.
"Any longer than that it becomes special reserve stuff," he said with a laugh.
Diners at Esquina, 801 Mass, may have had a ghost chile encounter when visiting in the summer and fall months. Co-owner Simon Bates introduced the pepper, supplied from a Eudora farm, into one of the restaurant's salsas. Up until last month when supply ceased for the season, Bates said Lawrence's most powerful salsa met an equally-strong reception.
"It was a big hit and it's just delicious," Bates said.
One of Brann's concerns when considering whether to concoct a bhut jolokia-infused barbecue sauce was offending diners with too much heat. Bates said he found a way to preserve the flavor of the pepper while satisfying resident chili-heads.
"I mean, we could've made so that it was so intensely spicy that no one would've been able to try them," Bates said. "But being in Kansas and all we just tried to make it a little more accessible."
Bates put about 25 small, fresh chilies into each one-quart batch. He roasted onions, tomatillos and garlic with the peppers and blended the ingredients with tequila, lime, vinegar and oil — see attached recipe. Each batch would last about two days.
The chilies can be found in packaged and dried at Checkers for usually a little more than $3. Mrs. Renfro's Ghost Pepper Salsa has also started appearing on shelves since the fall.
Bates said the sauce won't return to Esquina until summer unless he can find the fresh chilies for a reasonable price between now and then. Either way it's "for sure" coming back, he said.
Until then, those cooking at home would be well advised to wear rubber gloves when preparing the chili.
Brann said bhut jolokias go best with traditional Middle Eastern curry dishes. He recommends reducing the peppers in oil at first to cook a little of the heat out.
And, above all, he said, make sure you like haat stuff.
Copyright 2018 The Lawrence Journal-World. All rights reserved. This material may not be published, broadcast, rewritten or redistributed. We strive to uphold our values for every story published.