As we wade through winter, let us look forward to spring. Check out spring 2011 ready-to-wear collections and attempt to incorporate the season's trends into your own winter wardrobes right now. Read on for the dish on a few new fashion trends and style suggestions in accompaniment.
Textiles:
Get inspired by international fashions. The bold prints popular in different countries are different and unique, especially in a sea of drab winter dressers. Set yourself apart by wearing a bright textile design or patterned, ethnic piece of clothing. Scarves and head-wraps are easy to throw on, and they instantly upgrade all basic, everyday outfits. But please, if you are feeling confident, don't stop there! Wear patterned tops and pants, wide-leg trousers and printed shoes. Wear flowing skirts in uplifting hues. Have fun! This look will make you feel adventurous and creative. Check out design team SUNO for a view of amazing Kenyan textiles, gorgeous color combinations and new printed platform shoes by Loeffler Randall for the same fashion line.
Neo-minimalism:
Fashion trends often seem contradictory; opposite the season's heavily patterned, bright printed apparel, many fashion houses are showcasing minimalist designs, promoting clean lines and classic simplicity to be the forecast in a new era of ultimate modernity. To achieve a neo-minimalist look, look for sophisticated dresses and monochrome separates. Purchase pieces that come as a set and actually wear them together — a charcoal pencil skirt, a charcoal cardigan and a charcoal jacket, for example. Also, don't overaccessorize. Pick only one or two accessories that mimic this polished, chic simplicity. Look to designs by Francisco Costa for Calvin Klein for examples of the impeccable tailoring and upgraded, modern silhouettes required to achieve a neo-minimalist fashion style.
Elevator flats: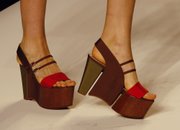 Just in time for the resurgence of wide-leg trousers, bell-bottom jeans and flared pants, a new shoe trend arrives. Elevator flats are a sensible shoe option, not only providing extra height but also boasting a comfortable sole. Look for shoes that have solid uppers, large surface areas for your feet to rest, and large surface areas on the soles. This combination creates a pleasant platform, easy for wearing and stable for walking. Also, the boost in height is elongating, contributing to a smooth silhouette overall. See some of my favorites and look out for similar styles and more affordable options: platforms by Fendi and patent leather platform shoes by Prada.
Copyright 2018 The Lawrence Journal-World. All rights reserved. This material may not be published, broadcast, rewritten or redistributed. We strive to uphold our values for every story published.