In 1999, the first time Nancy Carter was diagnosed with breast cancer, she was living in Colorado, far from Lawrence, and far from her family. Fortunately, the cancer went into remission, and in 2001 Carter moved to Lawrence to be closer to family.

When the cancer reoccurred in 2006, family was by her side.
One of those family members at her side was District Court Judge Peggy Kittel who, despite her work behind the bench, was with her sister throughout the treatment: doctor appointments, surgeries, radiation treatments. Kittel helped Carter as she lived and fought the disease; unfortunately, like with many cancer patients, it was a losing battle. When Carter chose to receive hospice care in the weeks before her death on Feb. 13, 2010, she was physically and emotionally drained.

"Nancy's cancer spread to her brain and her spinal column, so not only was she in a lot of pain, she was also losing mobility," Kittel says.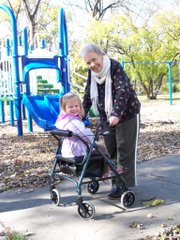 Carter's decision to enter hospice did not come easily, and no one understands that better than the nurses and volunteers who help families and patients through those end-of-life issues.
"It is such a difficult time," says Sarah Randolph, marketing and development manager for Douglas County Nurses Association. "And it is difficult to know how to help families who are in that position."
One area restaurant, however, has found a way to help, and has been doing so weekly for four years. Every Thursday, Teller's restaurant prepares a meal for a family receiving hospice care, and it is not just any meal. "It is the full spread, from appetizers to desserts," says Randolph.
It started with a conversation between Randolph and Matt Hyde, who was then the general manager of Teller's.
"Matt and I were talking about my job working with hospice patients, and he asked what his restaurant could do to make their lives easier, and fairly quickly we realized that meals were a service that made the most sense," Randolph says.
Little did Randolph know, however what their conversation would turn into, and what it would mean for the hundreds of families that they touched and helped over the years.
"I pictured that it would be once a month, but Matt ran with it and it's a meal once a week for up to six people, and Matt pushed the appetizers and the desserts because he wanted it to be more than a meal. He wanted it to be an experience because he knew that food sets the tone for occasions, and understood that this was a chance [for families] to step out of their lives dealing with hospitals and doctors and care giving challenges."
Not only was Hyde, now partner and manager of 715 restaurant, 715 Mass., interested in helping out the families, he wanted to "spread the word about the good that hospice does," he says.
When Hyde left Tellers, hospice volunteers worried that the program might end, but Randolph reports that "the new management did not miss a beat."
"It is a testament to the people at Tellers," she says.
"We are totally on board with the program," reports Tom Wilson, Tellers' current general manager. "It means a lot to our staff, and I think it brings us all together."
Every Tuesday, hospice volunteer Angela Watts gets the orders from the families and e-mails it to the Teller's staff. On Thursdays she arrives around 5:30 "usually as the food is being boxed up." She then drives to the various homes and delivers it to the individual families. "You walk in and people are gathered and it's a bright spot in the middle of a hard time," Watts says.
"It allows the patients on hospice the chance to be with the people they want to be with and escape from the reality even for a little while," says Carol Schmitt, hospice manager at the Visiting Nurses Association in Lawrence. "It provides a pleasant moment in a situation that is painful."
"I heard from a few of the families about those meals," Hyde says. "Everyone gets together to tell stories and that is what a good meal should be."
"I remember planning the meal with Nancy," says Kittel. "It was such a nice distraction, trying to figure out what we were going to order, and it was something to look forward to."
Nancy Carter's sister Maureen Carr-Miller was at the dinner and has vivid memories of the evening it came her sister's home.
"I remember the Teller's dinner being one of the bright spots in the last few weeks of Nancy's life. I think she enjoyed the opportunity to invite people in for a nice dinner. ... What they did for us — perfect strangers — was the kindest, most thoughtful and appreciated act."
"Nancy chose to move to Lawrence to be closer to her family, but she loved the community feel to our city," adds Kittel. "Nancy was all about community, and she understood what a wonderful place Lawrence is to live, and the generous people who live here."
Copyright 2018 The Lawrence Journal-World. All rights reserved. This material may not be published, broadcast, rewritten or redistributed. We strive to uphold our values for every story published.