Photo Gallery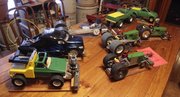 Micro-mini tractors
Duane Newman takes his micro-mini tractors to pulls all over the midwest. The home-built tractors usually can pull 100 times their weight, and sometimes even more.
Micro-mini tractor classes
The National Micro-Mini Tractor Pullers Association splits the tractors into seven classes.
3-pound pro stock
5-pound pro stock
5-pound super stock
2-wheel-drive pickup (4 pounds)
4-wheel-drive pickup (6 pounds)
open class (6 pounds)
semi class (7 pounds)
Bill Vote, president of the association, said depending on the track and weather, he's seen open class tractors pull up to 1,000 pounds of lead blocks or a person.
It all starts with some gears and a mini engine. Then some smoothed rubber wheels and a body. A couple other details and then the most important one — the hitch. That's what pulls the real weight around here.
Duane Newman, is building tractors in the basement of his Lawrence home.
It's not like he has a full farm-size tractor down there. No, he is building micro-mini tractors, vehicles scaled to 1/16th the size of normal tractors.
About 10 times per year, Newman will load up his car with his mini tractors and drive to a pull, where he will set them on a table and watch them pull up to 1,000 pounds of blocks of lead.
"It's a hobby. It's a bunch of fun," he said. "It's an enjoyable way to meet with old friends and have some fun doing it."
Newman's hobby is not common, and only two other people in Kansas are known to participate. Tom Wilson, Ottawa, was the one who introduced Newman to the mini pulls about five years ago. Since then, Newman has been building his tractors and traveling to pulls in throughout the Midwest when he's not at his day job in maintenance at ICL Performance Products, 440 N. Ninth St.
"I'm sort of a tinkerer and like to do my own stuff," he said.
The National Micro-Mini Tractor Pullers Association, which has been around since 1976, splits the tractors into seven classes, categorizing them based on weight, two- or four-wheel-drive, and body style. Tractors must weigh between 3 pounds and 7 pounds, but can pull 100 times its weight or more.
Bill Vote, president of the National Micro-Mini Tractor Pullers Association, says the organization has only about 70 members nationwide, but they're a community of tinkerers.
"We are like-minded people doing like-minded things," said Vote, who also plays host to a pull in Iowa. "There are just all kinds of different people. There are diesel mechanics. I was a mail carrier. We have farmers. We have mechanics. That's our thread."
Newman said part of the appeal of the mini pulls is the cost and time put in. Each tractor costs up to $300.
"You can have a whole bunch of these for what a big tractor costs," he said. "These kind of things you can get into. Even for what a person would spend for a good garden tractor, you can get half a dozen of these little mini pullers."
Members are allowed to enter up to two tractors into each class, totaling up to 14 tractors. Newman has 11 tractors, which lets him do multiple pulls per day. With larger tractors, entrants get only one or two per day.
"With the garden tractor, my grandson makes two pulls, and you're out there virtually all day," he said.
The mini-tractor sleds resemble those used in full-sized pulls, and the weight moves higher up on the sled the farther the tractor travels. Entrants use a plastic shield to guide the motorized tractors down 2-foot-wide tables. A full pull is generally 14 or 15 feet, as long as nothing goes wrong along the way.
"You're talking seconds. It doesn't take that long," Newman said.
Newman drives hours for those few seconds with his friends — and he relishes beating them.
"It's very much a social event," he said. "That one time you beat that guy who you normally lose to, that makes it all worth it."
Copyright 2017 The Lawrence Journal-World. All rights reserved. This material may not be published, broadcast, rewritten or redistributed. We strive to uphold our values for every story published.