Photo Gallery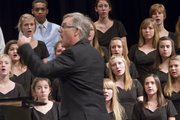 Martin Luther King Jr. Educational Event
The Lawrence school district came together with a common dream Thursday night at the annual Martin Luther King Jr. Educational Event.
Students from each grade school, junior high and high school went before a crowd of hundreds in Free State High's auditorium to speak about the community service projects they'd completed or still had scheduled to honor King's legacy. The West Junior High School Chorale and Cordley School Choir also performed at the event.
Organizations benefiting from the projects included Lawrence Humane Society, The Salvation Army, ECKAN food pantry and Willow Domestic Violence Center.
The Rev. Paul Winn Jr., an organizer of Lawrence's Martin Luther King Jr. Day events with Lawrence Ecumenical Fellowship, applauded the efforts of the students and recognized the importance of starting a tradition of service early.
"I think we're putting the foundation in place in the hearts of our children to be dreamers and achievers," Winn said.
Elementary and junior high school students participated in a wide variety of projects, ranging from making blankets to collecting cans of food to creating necklaces for a sale. Students from Langston Hughes School spoke of collecting 50 pounds of pop tabs, while Central Junior High School students had logged more than 1,100 hours of community service.
Martin Williams, Lawrence High School senior, spoke about his membership in a group called "Can We Talk?", which gives students an outlet for their problems and helps them reach a higher level of achievement in school and life.
"It's important that we still acknowledge everything that's happened and where we come from," Williams said.
Four Free State students took a class called Interpersonal Skills, which brought together students who might never have met each other before. The group expanded the program to West to empower the younger students to branch out and build new relationships earlier.
"We got the opportunity to expand people's views," said senior Victoria Gilman. "We all ran in different social circles before Interpersonal Skills, but we found we have commonalties."
Copyright 2017 The Lawrence Journal-World. All rights reserved. This material may not be published, broadcast, rewritten or redistributed. We strive to uphold our values for every story published.