On the street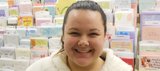 No, I don't. I live in an apartment building so I just don't.
Lawrence police are warning residents not to leave their cars unattended as they try to warm them up in colder weather after five cars have been stolen in the last week.
"Don't leave it in your driveway where they can see exhaust because they are going to take it," said Sgt. Matt Sarna, a police spokesman. "Don't leave yourself vulnerable to that type of situation."
Sarna said four of the vehicles have been recovered. Police are still looking for the fifth vehicle.
"Locking the doors may deter some thieves, but many will simply break the glass using a rock or tool in order to gain entry into the vehicle," Sarna said.
Sarna said residents should not leave their vehicles running and unattended whether they are in the driveway or if they run briefly inside to grab something at a convenience store.
It's also against a city ordinance to leave running vehicles, and a violation can carry an $80 fine plus $53 in court costs.
Police see these types of thefts every winter, Sarna said, but officers are concerned to have so many in a short period of time.
"This year we've seen more than we want to see," he said.
Other tips, Sarna said, include:
• Turn off the engine, remove the key and lock your vehicle each time you leave it.
• Never leave children unattended in a vehicle.
• Anyone with information about a stolen vehicle or another crime can all police at 785-832-7650 or Douglas County Crime Stoppers at 785-843-TIPS (8477).
Copyright 2018 The Lawrence Journal-World. All rights reserved. This material may not be published, broadcast, rewritten or redistributed. We strive to uphold our values for every story published.