Name: Joe Scholz
Age: 28
Sign: Obviously an Aquarius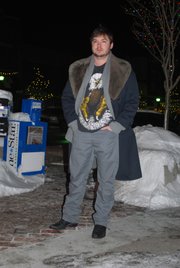 Occupation: Video production/Bartender
Hometown: Atchison, KS
Time in Lawrence: 11 years
What were you doing when you were scouted? Getting off work, and having drinks.
How would you describe your style? Really cool ... for the '90s.
What are your current favorite fashion trends? Giant dude sweaters.
What are your least favorite fashion trends? Uggs, duh!
What would you like to see more of in Lawrence? Career Opportunities.
What would you like to see less of in Lawrence? Parking meters.
Do you have any piercings/tattoos? One older piece on my shoulder and a brand new raven on the back of my other shoulder, courtesy of Simon Gentry.
Do you have any fashion influences? My friends and rock musicians.
People Say I Look Like... I hate to admit it but I get a lot of Jack Black comparisons.
Tell us a Secret: I try not to have to keep secrets.
Copyright 2018 The Lawrence Journal-World. All rights reserved. This material may not be published, broadcast, rewritten or redistributed. We strive to uphold our values for every story published.