Photo Gallery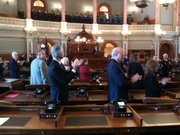 Governor Sam Brownback's inauguration
Photos from Kansas Gov. Sam Brownback's inauguration on Monday, Jan. 10, 2011.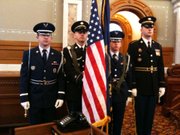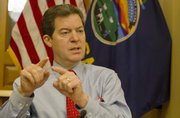 Photos, videos and stories about Kansas Governor Sam Brownback.
Topeka — Gov. Sam Brownback was sworn into office Monday, saying he wanted to focus on improving the economy and education, but his fellow conservative Republicans indicated they wanted to deal with additional issues, such as abortion and immigration.
Brownback, 54, became the 46th governor of the state in an inaugural ceremony that was chased inside the Capitol by a snowstorm.
Just hours after taking the oath of office, Brownback convened his Cabinet and urged his appointees to focus on five goals.
The goals are to increase Kansans' net personal income, private sector employment, the percentage of fourth-graders reading at grade level, the percentage of high school graduates who are college-ready, and decrease the percentage of Kansas children living in poverty. These were the same goals he announced during his campaign.
Brownback had the goals printed on laminated cards and handed them to his Cabinet secretaries.
"I'm not asking you to tie it around your neck," Brownback told Cabinet members, but, he added, "All of our jobs are dependent on these five measurables moving in the right direction."
But Brownback's fellow conservatives quickly showed they had additional goals as the 2011 Legislature started.
They filed bills to repeal in-state tuition for children of illegal immigrants and further restrict late-term abortions. The proposals have for the past several years been turned back by a coalition of moderate Republicans and Democrats. That coalition, however, was destroyed in the last election.
But most of the day was devoted to tradition and ceremony.
After being sworn into office, Brownback gave a short speech in the House chamber, saying Kansas will rise above current economic and societal problems.
But Brownback provided no details on his plan to balance the budget in the face of a growing $550 million revenue shortfall.
"Our administration will focus on the basics," he said. Brownback will give his State of the State address on Wednesday and is expected to unveil his proposed budget on Thursday.
His speech focused on Kansas' place in history, saying it was the land of hope, freedom and opportunity.
A two-term U.S. senator, and former presidential candidate, Brownback has long touted anti-tax, small government and anti-abortion positions.
Republicans swept all statewide and congressional races in November's election, the first time since 1964.
Secretary of State Kris Kobach is known nationally for pushing laws aimed at illegal immigration. And new Attorney General Derek Schmidt has said he will file a legal challenge to the federal health care reform act.
In addition, Republicans hold a 92-33 advantage over Democrats in the House and a 32-8 advantage in the Senate.
Copyright 2018 The Lawrence Journal-World. All rights reserved. This material may not be published, broadcast, rewritten or redistributed. We strive to uphold our values for every story published.