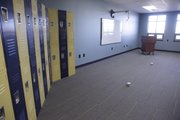 Lawrence's public schools aren't the only ones bracing for major changes this year.
Private schools also are making plans to add more grades, enroll more students or accommodate new programs for 2011-12, when the Lawrence public school district will be turning its junior highs into middle schools.
"Parents have always encouraged us to have more grades," said Pat Newton, principal at St. John Catholic School, 1208 Ky. "It never was feasible, with the current configuration of the public schools. Now that the public schools are changing, it makes it easier for us."
One major change at the public level — middle schools welcoming students in grades six through eight, therefore limiting elementary schools to kindergarten through fifth — is spurring the most adjustments among private schools in Lawrence: more classes, more subjects, more teachers. and more renovations, additions and other expansions to fit in.
Administrators with the Lawrence school district prefer not to address the potential for losing enrollment to private schools. Instead, they note the additional opportunities that will be available for public-school students from sixth grade and beyond.
"We are focused on creating a positive, dynamic middle school program," said Rick Doll, district superintendent. "That's what we're focused on. Parents certainly have the right to choose."
Leaders from the community's Catholic schools don't expect the shifts to prompt the opening of a new private high school in town, at least not yet.
"That's still always a dream, but we have to start here first," said Mary Mattern, principal at Corpus Christi Catholic School, which will add a seventh grade in August. "You can't have a Catholic high school without a Catholic junior high."
Among private educational entities adjusting operations, staff or facilities this coming year:
• Corpus Christi is enrolling up to 24 students for its first seventh-grade class. Space at 6001 Bob Billings Parkway has been converted to accommodate the class, using money generated through development — that's donation — efforts. Students will follow a seventh-grade curriculum, one that includes language arts, social studies, math, science, physical education, art and electives such as foreign languages and lifetime health. Students also will participate in school-sponsored athletic competitions through the Catholic Youth Organization. Eighth grade will be added for 2012-13.
• St. John is making plans this year to start its new seventh grade in 2012-13. That's why this year's fifth-graders are busy working on coming up with a school mascot, colors and perhaps even a motto. Next year, as sixth-graders, they will "begin to moving to a middle school concept," Newton said. School and church leaders, meanwhile, are busy working on a $3.2 million capital campaign to make room for the new grade, plus the planned addition of eighth grade beginning in 2013-14. The project would add a gym and classrooms, but the school is prepared to use portables if necessary.
• Bishop Seabury Academy's enrollment will expand to include sixth-graders for the first time, adding to a campus that already has 149 students in grades 7 through 12. The plan is to provide sixth-graders "a strong foundation for college-preparatory education," said Don Schawang, head of school. The Episcopal school at 4120 Clinton Parkway has room to accommodate the additional students, but officials are considering options for portables or other temporary accommodations. Beth Easter, who has two sons at Langston Hughes School and a daughter still two years away from school, said she likes the public school, but is looking forward to enrolling all three at Seabury — for the academics, the focus and the social interaction with classmates through grade 12. "It's nice to have those great role models watching over them," Easter said. "That's their job as upperclassmen."
• Veritas Christian School isn't changing anything. The school at 256 N. Mich. already has students in grades K-12, and sixth-graders already play sports and participate in other activities with seventh- and eighth-graders. "I can see why they (school district) are going in this direction," said Kelly Hustling, administrator for the school that's in its sixth year of offering secondary education. "It's a difficult decision for them to make, but it's one that can be very successful."
• Century School will drop sixth grade so that the school's oldest students will be able to "transition" into public schools with their grade-level peers, Principal Jon Statelier said. That means next year's Century students will range in age from 5 to 11, not 5 to 12, and open up the school — now at capacity with 72 elementary students and 22 preschoolers at 816 Ky. — to another three to six younger students now on a waiting list.
• Prairie Moon Waldorf School, 1853 E. 1600 Road, east of Lawrence Municipal Airport, plans no changes to its preschool and elementary operations, although sixth-graders would be expected to shift into educational opportunities elsewhere.
• Raintree Montessori School, 4601 Clinton Parkway, plans no changes to its elementary program, because its students are grouped into three mixed-age communities: 3-6, 6-9 and 9-12, said Heather Eichhorn, a teacher and administrator.
Leaders at Bishop Seabury and elsewhere say that while nothing has held them back from expanding programs, the Lawrence school district's upcoming moves offer a new opportunity to move forward with their own approaches.
"In our 13 years with the school, we've been developing a program that works in tandem within the structure of education in the city," Schawang said. "Now, we've got two things happening at once: a shift in that structure, but also an imperative, on our part, to explore an additional introduction to the program … that's going to help students be effective learners."
Copyright 2018 The Lawrence Journal-World. All rights reserved. This material may not be published, broadcast, rewritten or redistributed. We strive to uphold our values for every story published.