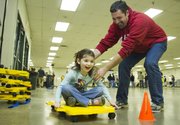 Myrone Grady admitted he was a little down about the Kansas City Chiefs' playoff loss earlier in the day.
But spending a couple of hours Sunday evening with his 8-year-old daughter, Aris, at the Girl Scouts-sponsored "Day at the Races" event temporarily erased the tough loss.
"I haven't thought about it since I walked through the door," he said. "Right now, this is spending time with my baby."
Grady and Aris were joined by dozens of other Quail Run School daddy/daughter combinations at the Douglas County Fairgrounds on Sunday.
The family duos competed in such games as three-legged races, pinewood derby events and musical chairs.
Dads tried to catch their breath while snapping pictures or capturing the moments on video, while daughters tugged them along to the next race.
Event organizer and Girl Scout troop leader Mary Dodd said this is the third year of daddy-daughter events sponsored by the Quail Run Girl Scouts. Each has had a different theme; this year, they borrowed the racing theme from the Boy Scouts.
Dodd said the event is just simply a way to encourage and celebrate dads spending time with their daughters.
But dad Stuart Day, clearly a little worn out by the activities with his two daughters, Emma, 6, and Maddie, 8, suspected another motive.
"To give the moms a chance to be alone," he joked.
Copyright 2018 The Lawrence Journal-World. All rights reserved. This material may not be published, broadcast, rewritten or redistributed. We strive to uphold our values for every story published.