To say Hagen Miller is an old soul may sound cliché, but it's nothing but the truth.
At 26, among his most prized possessions is a 400-year-old book on his desk and framed black-and-white family photos that hang in the study of his east Lawrence home. But it's what's jammed in the corner of that room that's truly the proof in the pudding.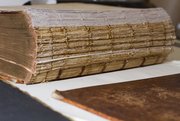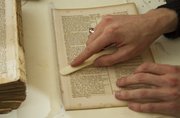 What's there? A trove of pre-Civil War era tools and a book, older than the state of Kansas, that's been stripped of its binding and is slowly, but surely, gaining new life.
By day, Miller works in the ever-advancing world of publishing as a supervisor in the content management services division at Allen Press, 810 E. 10th St. By night, he retires to his study, huddles over a Bible printed in 1854 and works away at the pages, restoring the book page by page with tools crafted within a decade of its printing.
"It probably hasn't gotten the credit that it deserves as a true art form," he says of hand-crafted book binding. "Knowing how to work with raw, natural material, vegetation to extract colors and different solutions you may need, making pasting glues and also additives into those mixtures to discourage insects from eating away at it — all that knowledge. I guess you could say that I think of the whole process as an art form, if you consider just how many hundreds of years of refinement it went through."
The self-described bibliophile started book binding in July after years of toying with taking up the hobby. The biggest hurdle for him before getting started? Gaining the right knowledge. The Internet was helpful, but master binders keep their secrets locked up tighter than most. Which is one of many reasons he's worried the ancient art will find itself extinct.
"I don't think there are enough traditional binders left in the world. There are many, I don't think calling them rare would be accurate," Miller says. "Here we are as book binders trying to keep going, and yet they don't really make an effort to reveal any useful insight or information, which, in my opinion, can be part of the problem. I mean, if you're not keeping the information out there and teaching people ... then it's going to take care of itself, probably."
Miller started his foray into the craft by making a blank journal in simple leather binding before moving on to repairing old books, including that 1854 Bible, which has been in his mother's family since its printing. The book's binding had all but collapsed, its front and back boards wrecked, and stains cover the pages. Miller hopes to bind it well enough that it won't have to be rebound in his lifetime.
His family members aren't the only people benefiting from the unusual hobby. He's had books commissioned from friends and co-workers at Allen Press, including Rick Moore, the company's director of content management services, who asked Miller to create three unique books as Christmas presents for family members — his wife, daughter and granddaughter.
"We own several hundred hard-bound books and in general enjoy and appreciate books. So, (I) thought it would be a neat gift for her, our daughter and granddaughter for Christmas," Moore says. "In today's world of mass-produced (items), each book is a unique item and something they can retain for their lifetime, and likely several generations beyond."
The whole process from start to finish took about six weeks of Miller working at a small folding table in his office, where he keeps all of his supplies. But before getting started, Miller quizzed Moore about the likes and dislikes of each of the recipients, much in the way an interior or fashion designer would interview a client before creating a room or piece.
"Hagen was very easy to work with, he provided several suggestions of different styles and the resulting appearance, discussed coloring for each book cover, etc.," Moore says. "And then he worked his magic."
The result was three books with a similar look — a three-part panel on the front of each book, all dyed to reflect the new owner.
Despite his worries about book binding being a dying art, suffering from its secrecy as much as the Kindle and the iPad, Miller believes books and the craft of binding them will always be important.
"As a civilization, as we progress in technology, I think going back into history will become a lot more lucrative," Miller says. "I think right now we're still kind of stuck on the high of, 'Hey, look at this! I can just drag my finger across a screen, look what it does.' Whereas, a book, could contain all the same information as that device, but if you drop the book it will still work.
"That's pretty amazing. It actually is pretty clever technology, if you consider the whole of it."
Copyright 2018 The Lawrence Journal-World. All rights reserved. This material may not be published, broadcast, rewritten or redistributed. We strive to uphold our values for every story published.