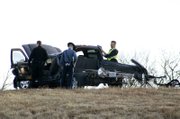 A Kansas Highway Patrol spokesman Friday warned drivers about taking extra precaution to make sure trailers are secured to their vehicles after a Raytown, Mo., man was injured in a crash Thursday afternoon on Kansas Highway 10 near De Soto.
"All the regulations that are set by the state are there for a reason, and it's for everybody else's safety besides yours," Technical Trooper Howard Dickinson said Friday. "If they don't follow those, then little things can become very big things."
Thursday's rush-hour crash that shut down westbound K-10 traffic for hours was the second injury accident involving a loose trailer on K-10 east of Lawrence since October.
The highway patrol Friday identified the Missouri man and a Eudora woman as the two people taken to hospitals after Thursday's crash that happened about 3:45 p.m. near Lexington Avenue.
According to the report, Barry L. Clemons, 44, of Raytown, was injured when his westbound 2005 Chevrolet truck was struck by a trailer that came loose from an eastbound vehicle. After the collision with the trailer, a westbound 2008 Toyota Avalon then struck Clemons' truck.
Clemons was taken to Overland Park Regional Medical Center with disabling injuries, and he was listed in critical but stable condition Friday, said Shannon Peyton, a hospital spokeswoman. The report states Clemons was not wearing a seat belt.
The Toyota's driver, Joanne K. Kite, 49, Eudora, who wore a seat belt, was taken to Lawrence Memorial Hospital, where she was treated and later released, an LMH spokeswoman said.
The trailer crossed the median after it came unhitched from an eastbound 2000 Chevrolet Silverado truck driven by Jerold D. Evans, 56, of Lawrence. No one was injured in Evans' vehicle.
Dickinson said Friday troopers were still finishing the accident report but that he expected Evans to receive a citation for failing to secure a load.
The trooper said the highway patrol advises drivers to make sure they have the correct size of hitch ball to secure the trailer. He also said drivers should verify their vehicle can handle the weight of the trailer and that the chains would be adequate to hold the trailer.
In the earlier accident, Douglas County Sheriff's officials said a Lawrence woman on Oct. 21 suffered an arm injury near Eudora when a trailer broke loose from an eastbound pickup truck and struck her westbound car.
Copyright 2018 The Lawrence Journal-World. All rights reserved. This material may not be published, broadcast, rewritten or redistributed. We strive to uphold our values for every story published.