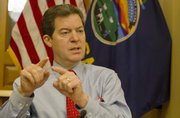 Photos, videos and stories about Kansas Governor Sam Brownback.
Wichita — Kansas Gov.-elect Sam Brownback has announced three key appointments in his administration.
During an appearance Friday in Wichita, he nominated former House Speaker Robin Jennison to lead the Kansas Department of Wildlife and Parks. The job had been held since late 2001 by former Gov. Mike Hayden.
The governor also named Curtis Whitten to head the Kansas Juvenile Justice Authority. Whitten formerly worked for the state corrections department as a court service officer and for the federal Drug Enforcement Administration as a criminal investigator. He is now president of security company.
Brownback's pick for the secretary of aging is Shawn Sullivan. Sullivan is the executive director of the Kansas Masonic Home, a nonprofit long-term-care facility in Wichita.
Copyright 2018 The Associated Press. All rights reserved. This material may not be published, broadcast, rewritten or redistributed. We strive to uphold our values for every story published.