Photo Gallery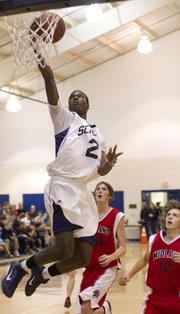 Bishop Seabury boys vs. MAA
Bishop Seabury boys basketball
• Schedule
Following Seabury Academy's 64-33 thrashing of Midland Adventist Academy on Thursday night, freshman Khadre Lane emerged from the locker room and was immediately swarmed by a group of classmates.
"That was OK, Khadre," one said.
The not-so-veiled attempt at sarcasm was fitting, because out of the many highlights from Seabury's rout, Lane's were undoubtedly the best.
Lane — Seabury's wiry, 6-foot-3 guard — tallied 17 points, five rebounds, three steals and five loud dunks, including a two-handed alley-oop on the game's opening possession.
"It feels good," Lane said. "Especially when it's on somebody, that's the best."
Boosted by Lane's early slam and contributions from seniors Reed Grabill (21 points) and Johnny McDermott (nine points, seven assists), Seabury (3-2) jumped out to a 39-7 lead at the half and coasted the rest of the way.
"The main thing is we came out and executed early and that set the tone for us," coach Ashley Battles said. "And anytime you start the game with a big dunk, it kind of deflated the other squad."
With their pressure defense forcing 25 turnovers, the Seahawks continually looked for Lane in transition for big plays, and the freshman didn't disappoint.
Easily gliding toward, and above, the rim with what he modestly estimated as a 32-inch vertical, Lane laid in another alley-oop from McDermott, and a few possessions later, followed a missed shot with a thundering two-handed put back.
Lane drove baseline in the third quarter for an impressive one-handed jam, and then coasted right through the lane for another one-handed stuff, before capping his night with a thundering dunk in the fourth.
"Right now he's a very, very special elite athlete." Battles said. "He's learning the game of basketball, developing a feel for the game and his skill level. The sky is the limit for a kid like him.
"He's going to cost us a lot in money in rims over the years."
Aside from Lane's highlight dunks and Seabury's overall offensive attack, Battles had hoped for a better effort defensively and focus from start to finish from his team.
"Our goal today was to get better," Battles said. "And even though the score was pretty lopsided, I'm not sure that we did."
Given the Seahawks' lofty aspirations, it's not surprising that Battles was so adamant about improvement following the easy win.
"I hope we can be good enough to win state," Lane said. "That's our goal. That's what we want to do."
If that's the case, there'll likely be plenty more highlights from Lane along the way.
"I want as many (dunks) as I can get," he said.
Box Score
Midland Adventist Academy 33, Bishop Seabury 64
MIDLAND (33)
Brett Trana 1-3 3-4 5, Tanner Finnegan 2-6 5-7 10, Craig Christensen 0-1 0-0 0, Dustin Foerderer 4-16 4-5 12, Evan McEwen 2-3 0-2 4, Jacob Prosser 0-5 0-1 0, Alex Helmer 1-1 0-0 2. Totals: 10-35 12-19 33
SEABURY (64)
Marcus Allen 1-4 0-0 2, Khadre Lane 8-12 0-0 17, Johnny McDermott 2-7 4-4 9, Josh McDermott 2-6 0-0 4, Reed Grabill 10-15 1-2 21, Nathan Wilhelm 1-2 0-0 3, Skyler Malone 3-5 0-0 6, Fischer Almanza 0-0 0-0 0, Zach Silvers 0-4 0-0 0, Samuel Ohashi 0-2 0-0 0, Nick Lutz 0-0 2-2 2. Totals: 27-57 7-8 64.
MAA 2 5 9 17 ˜ 33
SEA ˜ 23 16 12 13 ˜ 64
Three-point goals: Midland 1-7 (Finnegan); Seabury 3-11 (Lane, J. McDermott, Wilhelm). Fouled out: None. Shooting: Midland 10-35 (28.5 percent); Seabury (47 percent). Turnovers: Midland 25, Seabury 14.
Copyright 2018 The Lawrence Journal-World. All rights reserved. This material may not be published, broadcast, rewritten or redistributed. We strive to uphold our values for every story published.