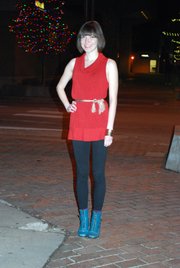 Name: Kelly Logan

Age: 26

Sign: Scorpio

Occupation: Starving intern

Hometown: Kansas City

Time in Lawrence: This time? 4 days. Previously, 4 years. 

What were you doing when you were scouted? Drinking a red-eyed Rasputin (Old Rasputin stout with a shot of cold press) at the Bourgeois Pig.

How would you describe your style? 
Yuppie… Young, unemployed pauper.
What are your current favorite fashion trends?
 Leggings as pants, tights as pants, knee-high socks as pants, and anything else that absolves me of the responsibility to dress myself before leaving the house.
What are your least favorite fashion trends? Pants as pants.

What would you like to see more of in Lawrence? Bicycles. Men in suits. Men in suits on bicycles.

What would you like to see less of in Lawrence?
 Men not dressed as Batman.
Do you have any piercings/tattoos? I've had nine piercings, though currently wear none. 

Do you have any fashion influences? 
The 1980s, the 1920s, Teddy Ruxpin, and Kansas Couture.
People say I look like...
 A deer in the headlights.
Tell us a secret:
 I'm secretly a corpse being carried around by my friends like in "Weekend at Bernie's.
"
Copyright 2018 The Lawrence Journal-World. All rights reserved. This material may not be published, broadcast, rewritten or redistributed. We strive to uphold our values for every story published.