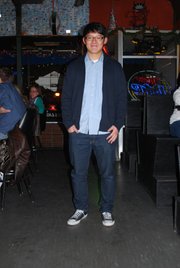 Name: Jun Park
Age: 25
Sign: Taurus
Occupation: Student
Hometown: Lawrence
Time in Lawrence: Since I was 14.
What were you doing when you were scouted? Hanging out at Louise's Downtown.
How would you describe your style? I wear whatever my girlfriend tells me looks good.
What are your favorite fashion trends? Skinny ties and scarves for men and women that can wear Uggs.

What are your least favorite fashion trends? Sloppy people in public. You ought to put forth a little effort.
What would you like to see more of in Lawrence? More formal, dressy attire and collared shirts, and colors other than KU blue.
What would you like to see less of in Lawrence? Leggings and sweatpants.
Do you have any piercings or tattoos? No.
Do you have any fashion influences? Again, my girlfriend. I really just wear whatever she recommends.
People say I look like... That guy from Kumar's Castle.
Tell us a Secret: I've watched every episode of Sex and the City, and I've seen the Sex and the City movies.
Copyright 2018 The Lawrence Journal-World. All rights reserved. This material may not be published, broadcast, rewritten or redistributed. We strive to uphold our values for every story published.