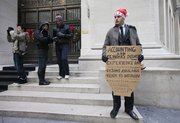 Washington — Companies added nearly 300,000 jobs in December, according to an unofficial count by a private payroll firm — more than in any month in the past decade. The news raised hopes that the government's official report Friday on last month's job creation could be a blockbuster.
While there were reasons to doubt the numbers, the report from Automatic Data Processing, and another showing strength in the nation's service industries, reversed what was shaping up to be an ugly day on Wall Street. It also generated optimism that the unemployment rate might finally start to fall.
Some economists expressed skepticism about ADP's monthly figures because they often don't track the official government employment data. Others said that the report's estimate of job gains was so high that it at least reinforced evidence that hiring is picking up as employers gain more confidence.
Diane Swonk, chief economist at Mesirow Financial, says the ADP numbers suggest the Bureau of Labor Statistics could report Friday that the economy created more than 300,000 jobs last month. Economists have been predicting fewer than half as many — 145,000.
It takes about 125,000 new jobs a month just to keep up with population growth and hold the unemployment rate — now 9.8 percent — stable. It takes up to 300,000 new jobs a month to reduce the unemployment rate significantly.
Copyright 2018 The Associated Press. All rights reserved. This material may not be published, broadcast, rewritten or redistributed. We strive to uphold our values for every story published.