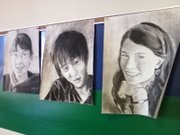 Walk into the commons at Bishop Seabury Academy, 4120 Clinton Parkway, and you can't help but see the brightness of 13 art students, each capture in simple black, white and judicious uses of gray.
Students in Laura Porter's art class recently completed self portraits. The students' large faces are captured in charcoal on paper, the images meticulously translated and transferred one square inch at a time.
I stopped by the school Wednesday afternoon for a story I'm working on about upcoming changes to private schools now that the Lawrence school district is transitioning its junior highs into elementary schools. Look for that story sometime this weekend.
But I was pleasantly surprised to see the art, just as soon as I walked in the door — and was equally happy to meet Johanna diZereaa and some of her classmates on their way back to art class.
You can see and can learn more about the project from Johanna herself by watching this "Faces of Bishop Seabury" video.
•••
The Lawrence school district announced Wednesday that it had secured a $2,200 grant to help boost students' opportunities for participating in physical activities apart from normal school hours — through programs such as marathon clubs, intramural leagues and bicycle clubs.
The district is one of 63 recipients of such Coordinated School Health Council grants for this school year, from the Kansas Department of Health and Environment and the Kansas Department of Education. The money will allow for development of such activity-related programs, along with finance professional development and provide other resources to health and physical education teachers.
The goal: "Pursue new initiatives in our district," said Anne Hawks, curriculum specialist for science, PE, health, guidance, and career and technical education, agriculture and health science programs.
•••
Now for some computer activity: The Lawrence school district is moving closer to creating what's billed as a "data warehouse," one designed to gather students' test scores and other achievement-related information so that it can be easily accessible for administrators — and, especially, individual teachers — who can use it to focus their work.
The system long has been a goal for administrators, and members of the Lawrence school board have endorsed the concept. Now administrators are ready to approve a $114,777 contract to implement the program and provide services for its first year.
"The data warehouse is going to help us go from data to information," said Frank Harwood, the district's chief operations officer. "We'll be able to collect the data and use it to inform instruction, and make better decisions to improve student achievement.
"That's what it's all about."
— The First Bell e-mailbox is always open: mfagan@ljworld.com.
Copyright 2018 The Lawrence Journal-World. All rights reserved. This material may not be published, broadcast, rewritten or redistributed. We strive to uphold our values for every story published.