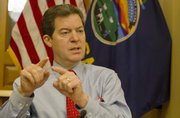 Photos, videos and stories about Kansas Governor Sam Brownback.
Topeka — Kansas Gov.-elect Sam Brownback kicks off several days of inaugural events Wednesday ahead of his swearing-in ceremony next week, and he has a backup plan in case an expected snow storm threatens the big event.
Brownback and other officials are scheduled to take their oaths of office Monday on the south steps of the Statehouse, a venue that would allow thousands of people to view the ceremony. But the National Weather Service was forecasting a significant chance of snow Sunday night and Monday in Topeka, with temperatures in the 20s.
Organizers said that if the weather gets too bad, the ceremony will be moved into the historic Dillon House, just west of the Statehouse. The home would accommodate only a fraction of the spectators, but "it's the closest place that would allow for a quick change to an indoor location that can accommodate the people who have to be there," Brownback spokeswoman Sherriene Jones-Sontag said.
Events leading up to the Republican's inauguration begin Wednesday with a seven-hour blood drive at the Red Cross offices in Hays. It is part of Brownback's effort to promote community service. Other events include repackaging medical supplies Thursday at the Community Health Center of Southeast Kansas in Pittsburg and stuffing backpacks on Friday with food for needy children at the Kansas Food Bank in Wichita.
The decision whether to move the swearing-in ceremony won't happen until late Sunday or early Monday, based on whether there's snow or sleet and time to clear it on the Statehouse grounds, Jones-Sontag said.
"If it's just going to be cold, bundle up," she said.
State officials haven't been forced to move the inaugural ceremony indoors for at least a quarter century. The Statehouse isn't available because it's still undergoing a massive renovation, and parts of it — including the rotunda — are closed off.
The state has owned the Dillon House since 1997, when it swapped a parking lot for the building with an adjacent Presbyterian church. The state has used the home, named for one of its former owners, for receptions and meetings.
Senate President Steve Morris, a Hugoton Republican, said planning to move the ceremony for snow or sleet is prudent. But residents shouldn't be surprised by cold weather.
"If it's just straight cold weather, we've had that before," he said. "I may go out and buy a pair of earmuffs."
Like other new governors across the nation, Brownback is promising to hold down costs associated with his inaugural even though events leading up the swearing-in ceremony are, by tradition, financed with private donations.
Four years ago, in flusher times, Democratic Gov. Kathleen Sebelius had five days of events in four cities that celebrated the arts and Kansas food, and cost more than $563,000.
Brownback's black-tie-optional inaugural dinner and ball are scheduled for Saturday evening at the Kansas Expocentre in Topeka, with tickets starting at $125. Jones-Sontag said about 2,200 people are expected to attend. His inaugural committee also has a prayer service scheduled Sunday at MidAmerica Nazarene University in Olathe.
Copyright 2018 The Associated Press. All rights reserved. This material may not be published, broadcast, rewritten or redistributed. We strive to uphold our values for every story published.