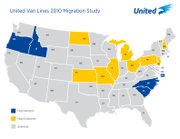 Whether it was the economy or a return of rural flight, more folks were moving out of Kansas than moving in last year.
Where they're coming from
Forty-eight households moved into Douglas County in 2010. Here's a look at where they came from:
1 from Arizona
7 from California
2 from Colorado
2 from Florida
1 from Iowa
1 from Indiana
2 from Kansas
1 from Maryland
2 from Maine
1 from Michigan
2 from Minnesota
3 from Missouri
1 from Montana
2 from North Carolina
2 from New Mexico
1 from New York
3 from Ohio
2 from Pennsylvania
1 from South Dakota
3 from Texas
4 from Virginia
3 from Washington
Where they're going
Seventy-three households moved from Douglas County this past year. Here's a look at where they went:
1 to Alabama
1 to Arkansas
1 to Arizona
7 to California
1 to Colorado
2 to Connecticut
2 to DC
1 to Georgia
2 to Iowa
3 to Illinois
1 to Indiana
1 to Kentucky
8 to Massachusetts
2 to Maryland
1 to Minnesota
1 to Missouri
3 to Mississippi
1 to New Jersey
4 to Nevada
3 to New York
4 to Ohio
1 to Oklahoma
1 to Ontario
1 to Oregon
1 to Pennsylvania
2 to South Carolina
1 to South Dakota
9 to Texas
4 to Virginia
3 to Washington
The state was one of nine noted in United Van Lines' 2010 migration study for the high rate of people leaving the state.
After several years of people coming and going from Kansas at a fairly balanced rate, a shift occurred in 2010. Of the 3,370 families United Van Lines moved, 44.1 percent were coming to Kansas and 55.9 percent were leaving.
Kansas hasn't seen such a gap since 2002, according to the company's data.
The balance was even more off kilter in Douglas County, where 48 households moved into the county and 73 left. Throughout the years, data from the country's largest moving company have been shown to accurately reflect the migration patterns of regions.
Joe Monaco, public information officer for the Kansas Department of Commerce, wouldn't comment specifically on the data, but said he wasn't surprised that the numbers showed more people leaving the state than coming in.
"We are talking about major long-term trends in the Midwest; it's certainly nothing new," he said.
Other Midwest states with high outbound migration in 2010 included Michigan, Missouri, North Dakota, Illinois and Ohio.
Monaco said the Department of Commerce has spearheaded a number of campaigns to keep recent college graduates in Kansas and to bring alumni back to the state.
Data from the Department of Labor show that, as of November, jobs have grown by .5 percent over the past year. In all, 6,900 new jobs have been added.
But still, Tom Kern, CEO and president of the Lawrence Chamber of Commerce, said the out migration numbers could be the result of a down economy and its impact on the aviation industry and light manufacturing.
In Douglas County, he pointed to jobs lost at Amarr Garage Door and Sauer-Danfoss.
"It isn't surprising given the context of how the recession has effected the industry," Kern said.

With the promise of a new plastic manufacturer coming to town and an expansion of another plastic manufacturing company, Kern hopes those out migration numbers will turn around.
And Monaco said that while population data show people leaving western Kansas at high rates, Johnson County has had one of the most successful business recruitment efforts in the country in the past few years. He also said there is hope for more job growth with a rebound in the aviation industry and growth in wind energy.
"We are optimistic, but, sure, folks are always going to come and go," Monaco said.
Nationally, New Jersey edged out Michigan for the percentage of residents leaving the state, at 62 percent .
So where was everyone moving to?
According to the study, Washington, D.C., had the highest percentage of people moving into its borders, followed by Oregon, North Carolina, Idaho and South Carolina.
Copyright 2018 The Lawrence Journal-World. All rights reserved. This material may not be published, broadcast, rewritten or redistributed. We strive to uphold our values for every story published.