Related document

KU-UMKC women's box score ( .PDF )
Photo Gallery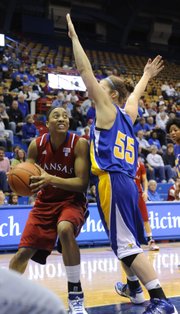 KU women vs. UMKC
Several hours after being introduced as Kansas University's new athletic director, Sheahon Zenger watched the school's women's basketball team play Monday night against UMKC in Allen Fieldhouse, a game attended by 2,012 spectators.
Seventh-year KU coach Bonnie Henrickson just hoped he didn't watch too closely.
"I hope they bothered him the entire time," Henrickson joked of well-wishers introducing themselves to Zenger. "I'm sure he was real impressed."
Still, even on a night when KU was far from its best, winning, 56-41, on the strength of 27 points and 14 rebounds from Carolyn Davis, it was clear to the visiting coach that this team has more going for it than its recent predecessors.
"I think they have a great ball team," UMKC coach Candace Whitaker said. "They have a great inside-out attack. I've been at UMKC for five years. We've played KU quite a bit, and I think this is the best team that Bonnie has had because of their inside game. They've got nice guards that can distribute and get out in transition."
It helps when the team's center gets down the court at the pace of a guard.
"I love to run the floor," said Davis, averaging 19.6 points per game. "That's one of my biggest advantages against other post players. I just know I can get easy position to make easy buckets, and it's the best way to score."
Easy buckets were more difficult than usual for Davis to come by in the first half, thanks to Kangaroos freshman center Ashli Hill, a Free State High graduate. All six of Hill's blocked shots came in the first half on a night she also contributed seven rebounds and two points.
"The coaches talked a lot about her," Davis said of Hill. "I knew what to expect when I came into the game. She blocked my shot right off the bat, and it was kind of a stun. I didn't match her intensity in the first half."
Hill received a passionate ovation when introduced and showed no nerves when playing.
"I knew it was going to be all love, so it was a positive environment for me," Hill said. "A whole bunch of my family was here and my high school basketball team, so they supported me well."
Hill originally orally committed to Oklahoma State, before switching to UMKC. She said was recruited by KU but wanted to experience college at an out-of-town school.
UMKC (5-10) trailed, 26-16, at the half and drew within 31-22 with 16:38 left, but never could cut its deficit to single digits again.
Kansas (13-1) opens Big 12 play against Texas Tech in Allen Fieldhouse at 7 p.m. Saturday. More than 10,000 tickets are available.
Copyright 2018 The Lawrence Journal-World. All rights reserved. This material may not be published, broadcast, rewritten or redistributed. We strive to uphold our values for every story published.