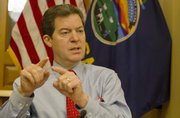 Photos, videos and stories about Kansas Governor Sam Brownback.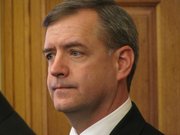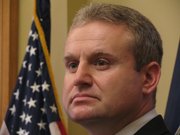 Topeka — Gov.-elect Sam Brownback on Monday picked two Cabinet officials that he said will focus on protecting health services for families, including removing disincentives to marriage.
Dr. Robert Moser was selected as secretary of the Kansas Department of Health and Environment, and Rob Siedlecki was picked to lead the Kansas Department of Social and Rehabilitation Services.
Moser, a family physician, is currently the director of rural health and outreach at the Kansas University School of Medicine-Wichita. Siedlecki is currently chief of staff at the Florida Department of Health.
"As we said during the campaign, preserving the family is essential to preserving freedom," Brownback said at a Capitol news conference.
Brownback said his administration will work to remove disincentives to marriage, defend the dignity of life, increase adoptions, and protect health insurance options.
Brownback said some people receiving assistance now decide not to marry because if they did they would lose their benefits. Brownback said he wants to change that situation so that people could get married and maintain their assistance.
"People want to support healthy marriages," he said. Brownback said he also wants to overhaul the way Kansas delivers Medicaid services. He said the services need to get better and the costs decrease.
Both appointments are subject to Senate confirmation. Brownback takes office Jan. 10.
The Department of Health and Environment has been at the center of a long-running political fight over energy policy and plans by a Hays-based utility, Sunflower Electric Power Corp., to build a coal-fired power plant in Finney County in southwest Kansas. Last month, Acting Secretary John Mitchell issued an air-quality permit that Sunflower needed to move ahead with its $2.8 billion project.
Brownback is a strong supporter of the Sunflower project.
The department also administers public health programs and coordinates the state's efforts to deal with disease outbreaks and epidemics. Its current budget is $240 million, and it has a staff of more than 1,000 employees.
Moser's background seemed more aligned with that side of the agency.
The Department of Social and Rehabilitation Services has about 6,300 employees and operates six hospitals for the developmentally disabled and mentally ill. Its budget exceeds $1.7 billion, making it the third-largest in state government, behind the Department of Education, which distributes aid to public schools, and the higher education system.
SRS oversees foster care for troubled children, with its workers assessing whether children should be removed from their families over allegations of abuse and neglect. That's repeatedly led to legislative scrutiny — and public criticism — of its decisions.
Siedlecki has worked for the federal government's Administration for Children and Families before joining the Florida Department of Health.
Copyright 2018 The Lawrence Journal-World. All rights reserved. This material may not be published, broadcast, rewritten or redistributed. We strive to uphold our values for every story published.