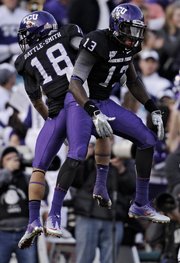 Pasadena, Calif. — When Tank Carder leaped with perfect timing and swatted Wisconsin's final pass to the turf, the TCU linebacker felt as if he got a boost from every player at every school that never even imagined playing in the Rose Bowl.
Sure, these unbeaten Horned Frogs realized they couldn't win the national title. They still celebrated their perfection on the hallowed Pasadena turf in the name of all the little guys outside the monolithic powers of major college football.
Andy Dalton threw a touchdown pass and ran for a score, Carder batted down a two-point conversion pass attempt with two minutes to play, and third-ranked TCU hung on to beat No. 4 Wisconsin, 21-19, on Saturday.
Bart Johnson caught an early TD pass and recovered a late onside kick for the Mountain West champion Horned Frogs (13-0), who followed up their second straight unbeaten regular season with their first BCS victory.
TCU is the first school from a non-automatic qualifying conference to play in the Rose Bowl since the advent of the BCS, and the Frogs were right at home.
"All the critics don't feel like the non-AQ teams should have a shot," said Carder, the defensive MVP. "But I feel that TCU has proven that we can play with the best of them. Definitely taking this win back to Fort Worth ... I feel like we came in here and made a statement today."
Either Auburn or Oregon will win the national title after they meet in the BCS championship game in nine days. These ferocious Frogs still proved they can play with anybody on college football's biggest stages.
"The way the system is, it didn't give us the opportunity to play in the (title) game, but we did everything we were capable of doing," said Dalton, who passed for 219 yards. "All we could do is control what we could control. I guess it's just the way the system is, but in my time here at TCU, we never thought we would have a chance to play in the Rose Bowl, and we got that opportunity today, and got a big win."
TCU lost last year's Fiesta Bowl to Boise State by a touchdown, but that's still the only loss of the past two seasons for the improbable power built deep in the heart of football-crazy Texas by coach Gary Patterson.
The non-AQ schools improved to 5-2 in BCS bowls with the Frogs' triumph.
Copyright 2018 The Associated Press. All rights reserved. This material may not be published, broadcast, rewritten or redistributed. We strive to uphold our values for every story published.