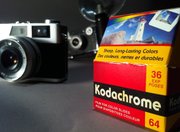 On or shortly after Dec. 30, 2010, the world's last roll of Kodachrome film was processed. It happened at Dwayne's Photo in Parsons, the last lab in the world to process the film. Manufactured by Eastman Kodak from 1935 to 2009, the film had gone out of fashion, resulting in lower sales and fewer processing labs. For years, Kodachrome was considered the premier color film in the world, favored by photographers for publication in print media. National Geographic photographers built their careers on the film known for its rich saturation and archival durability. Hobbyists loved it, too. If you haven't photographed with it yourself, maybe you've sat through your grandparent's slideshow featuring you or your parents growing up. I'd wager that many homes still have slide-trays full of Kodachrome memories somewhere in the basement.
When Kodak stopped making the film in 2009 they gave the last roll to photojournalist Steve McCurry. National Geographic documented McCurry and the roll's journey including processing by Dwayne's Photo in 2009. Look for a National Geographic TV special to air in spring 2011.
Our photo staff purchased 10 rolls of expired 2007 Kodachrome off eBay recently. Once we had it in hand, we scratched our heads trying to remember if we had film cameras in working condition and up to the task. But the funny thing was how our whole staff treated the film like it was coated in gold. No subject was deserving of this precious film. I decided it didn't really matter, and I started directing my camera at common objects around the house whether they were colorful or not. A drying lotus plant, my grey cat, even a roll of old black-and-white negatives curled on a red floor became an interesting subject.
If we correctly exposed the film and created anything of interest, we'll show samples in a future article.
Copyright 2018 The Lawrence Journal-World. All rights reserved. This material may not be published, broadcast, rewritten or redistributed. We strive to uphold our values for every story published.