"I knew from an early age that I wanted to be a teacher and perhaps be in the health field helping people," says Sidney Sutton, registered yoga teacher, mentor, retreat leader and lifelong learner.
"I loved to learn then and still do now."
Sutton spent her childhood years in Kansas City and Lake Lotawana, Mo. She enjoyed swimming, sailing, spending time with both sets of Kansas grandparents and serving in her local church.
She completed two years of nursing at the University of Wyoming before returning to Kansas City to graduate as an X-ray technologist from Research Hospital and from Avila University with a bachelor's degree in radiographic technology.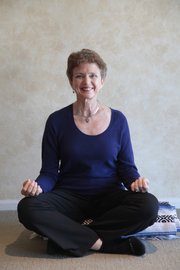 Sutton worked at Shawnee Mission Medical Center before moving to Chicago with her husband, Tod, then worked at the University of Illinois Health Center.
While taking her two sons to preschool, she saw a poster with the words: "For those who love, stingy time gives 10,000 summers."
Sutton determined to make the most of her life by committing to explore and learn new things, being as loving and open as she could be, building community and staying healthy.
An unexpected opportunity opened up when a friend invited her to a (Chicago) yoga class.
"I fell in love with yoga. It was perfect for me," Sutton says.
"I couldn't believe how well I felt after a class. I had fun trying new asanas (poses) and wanted to learn more about yoga's philosophy as well as the physical aspects."
She took classes at the local community college, attended workshops around the United States, Mexico and Costa Rica, and learned different types of yoga, including hatha and Iyengar.
"Yoga has been wonderful for me," Sutton says. "My coordination and flexibility has improved. I couldn't touch my toes in grade school. Yoga's helped keep me strong physically and mentally. It's also made me more mindful of living in the moment and helped me grow spiritually."
She moved to Lawrence in 1999, continued to study and practice yoga, and participated in meditation and Bible study groups. She and Tod mentored students in a church program, Education for Ministry, for nine years before taking their first break this year.
Sutton looked for opportunities to teach yoga. One presented itself when a church member invited her to teach a class when the teacher left.
"I decided I'd teach at home," she says.
"I keep the classes small so I can give more personalized attention to the students. My philosophy is to introduce people to yoga in a way that piques their curiosity to learn and have fun. If they enjoy it they will return and learn more about this discipline's benefits. I teach mostly gentle yoga classes that help with balance, strength, flexibility and concentration."
Sutton has taught golf yoga classes, led retreats, including one for Women's Spirit Connection in the fall, and has given talks about yoga's benefits to community groups.


"In all of this I'm always a student," she says. "I'm continuing to learn, and I remain committed to taking care of and nourishing my body, mind and spirit."
Copyright 2018 The Lawrence Journal-World. All rights reserved. This material may not be published, broadcast, rewritten or redistributed. We strive to uphold our values for every story published.