Some ladies plan outfits around their shoes; others slip them on as they run out the door. Regardless of your dressing routine, owning a balanced variety of trendy shoe s makes your springtime outfits effortless to put together.
Wooden: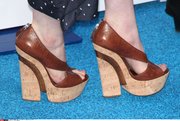 Wood or cork heel shoes are the perfect complement to this season's throwback, '70s-inspired clothing trend. Their neutral-toned bases provide optimal versatility, and their chunky, retro stems ensure comfort and sturdy walkability. Although these shoes are easy to find in shades of tan and brown, feel free to venture out and pick up a pair with a healthy dose of color in its upper. Try a punchy apricot or bold turquoise, or for a dressed-up neutral, opt for a metallic gold hue.
Platform pumps:
Opposite your chunkier, retro wooden platforms, pick out a sleek, sexy platform pump. These shoes are dressy, urban alternatives, and they will look perfect with jeans or fitted dresses and miniskirts. Unlike your old high heels — shoes with an even base — the additional weight near the front toe-area of platform pumps act like security devices or personal escorts, making balancing and walking a complete breeze. When selecting a pair of platform pumps, almost any color will do, so be as daring as you will! Pick out shiny, black patent pumps, a hot-pink suede pair, or a wild and saucy, leopard-print variety!
Loafers:
Replace your winter brogues with an updated classic, the penny loafer. Perfect for work and play, loafers are versatile springtime shoes. Although traditional loafers are neutral shades — browns, tans, and crèmes — select a more colorful, springtime hue. Light pinks or cheerful yellow shoes add an instant color boost to your outfit. I've even seen a few more glitzy pairs complete with sparkly shimmer.
Espadrilles:
The raw texture and construction of espadrilles instantly reminds me of warm weather — a reminder I welcome during the chilly winter months. So as soon as you can bop around town sans-socks without freezing off your feet, I say bring on the espadrilles. Both platform espadrilles and flat espadrilles will come around this spring, but if you're looking for a quick, slip-on and another alternative to ballet flats, seek out heel-free espadrilles for a perfect casual, spring shoe. Again in terms of color, you can't go wrong — choose bold stripes, deep monochromes or funky floral prints. All varieties are sure to complement your spring 2011 wardrobe.
Copyright 2018 The Lawrence Journal-World. All rights reserved. This material may not be published, broadcast, rewritten or redistributed. We strive to uphold our values for every story published.