Sometimes, a dollop makes the meal.
That ketchup, mustard, mayo or fancy pants aioli is exactly what is needed to make a good sandwich great.
And you know what? It's as easy putting on your lab coat (or apron) as playing mad scientist to get restaurant-style condiments at home.
Seriously. All you have to do is open up the fridge, says Simon Bates, co-owner of The Burger Stand at the Casbah, 803 Mass.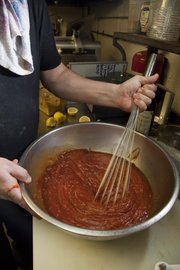 Bates says that when he's not tending to the food at The Burger Stand or its sister restaurant, Esquina, 801 Mass., he's at home creating new sauces and spreads.
"We have a lot of stuff laying around, and I just end up mixing it up and experimenting," Bates says. "Everything from ranch to soy sauce. If you have any mayo, you can add a lot of stuff to that. Ketchup is real easy ... just a little sriracha, blend it in there."
Phil Toevs, cafe chef at WheatFields Bakery and Cafe, 904 Vt., says that method is probably in use in every restaurant in America worth its salt.
"When people see a fancy condiment that they really like on a menu somewhere, chances are that's what they're doing (playing with flavors)," Toevs says. "If you see something fancy like raspberry kiwi mayonnaise on your fruit crepe, chances are they pureed raspberries and kiwi and stirred it into mayonnaise. It's really that easy."
As for where to start, Bates has a few additions he loves to make to ketchup and mustard on a regular basis.
Ketchup:
• Soy sauce and rice wine vinegar
• Sherry vinegar
• Lemon juice and zest
• Mayo
Mustard:
• Spices like coriander, caraway
Pickle relish
• Sriracha
• Roasted garlic
Bates suggests starting with a small amount and working your way up, testing it until you get the flavor just where you want it.
Toevs says not to be afraid to push yourself — there's no wrong way to make a condiment. Just start out with flavors you know you like and work from there.
"Sky's the limit for the amount of flavors you can put together," Toevs says. "You're never really going to break a condiment."
And, Bates adds, chances are that your artistry in the kitchen will pay off with a new favorite flavor combination. He points to one of his favorite off-the-cuff combos — The Burger Stand's chipotle-cocoa ketchup — which was just a whim and a mix of likable flavors.
"That's just chipotle peppers pureed up with unsweetened cocoa and honey and our house blend ketchup," he says of the popular sauce, which is standard on the restaurant's smoke burger. "I'm pretty proud of that."
Sweet and Sour Honey Mustard Dipping Sauce
4 teaspoons Dijon-style mustard
4 tablespoons brown rice vinegar
5 tablespoons honey
1/2 teaspoon salt
3 tablespoons water
2 tablespoons canola oil
1 tablespoon garlic, finely minced
1 teaspoon arrowroot dissolved in 2 teaspoons water
Whisk together mustard, vinegar, honey, salt and water in stainless steel or glass bowl, reserve.
Heat canola oil in skillet over medium heat. Add garlic, reduce heat and stir constantly for 15 seconds. Do not burn. Add mustard mixture and simmer for 30 seconds. Add arrowroot and cook another 30 seconds, stirring constantly.
Remove from heat and allow sauce to reach room temperature. May be made several days in advance and gently reheated before serving.
— Recipe by Gary Jenanyan for www.spectrumorganics.com.
Bacon Ketchup
1 medium onion, diced into small pieces
10 raw garlic cloves, diced into small pieces
1 to 2 tablespoons olive oil or vegetable oil
1/2 cup brown sugar
1 can (28 ounces) whole peeled tomatoes, strained and chopped
4 large red bell peppers, roasted, peeled, destemmed and chopped
1 teaspoon smoked paprika
1 bay leaf
4 sprigs of fresh thyme, or more to taste
Salt and pepper, to taste
1 tablespoon balsamic vinegar
5 pieces thick bacon
Sauté onion and garlic until tender and caramelized in a tablespoon or two of oil.
Add brown sugar to caramelized onions and garlic, and cook a couple of minutes until well-integrated. Add tomatoes, roast bell peppers, paprika, bay leaf and fresh thyme. Simmer about 1 hour. Add salt and pepper to taste. Add balsamic vinegar at the end. (This will balance the sugar.)
Preheat oven to 350 degrees. Place bacon strips on a baking sheet in the oven until it is crispy all over. Drain on paper towels, and dice into small pieces; fold into ketchup.
Serve warm with hamburgers, French fries, grilled cheese, or anything else you wish had some bacon on it. Keeps well in a refrigerated container for about three weeks.
— Recipe from www.muirglen.com.
Spinach & Arugula Pesto Mayonnaise
1 bunch arugula
1 bunch fresh spinach
5 cloves garlic
3/4 cup extra-virgin olive oil
1/4 cup parmesan cheese
1/4 cup toasted walnuts
Salt and pepper to taste
Make the pesto: In a blender, combine half the greens and all of the garlic. Add half of the olive oil and blend until pureed. Add the rest of greens, a handful at a time, adding olive oil as needed. Last, add the walnuts, cheese and season to taste.
Make the mayo: Stir 1 tablespoon of the pesto into 2 cups mayonnaise.
— Recipe by Gary Jenanyan for www.spectrumorganics.com.
Lemon-Herb Aioli Dip
1/2 cup mayonnaise
1/4 cup sour cream
3 large fresh basil leaves, finely chopped
4 cloves garlic, minced
Zest and juice from 1 lemon
Mix all ingredients until well-blended.
— Recipe from www.kraftrecipes.com.
Copyright 2018 The Lawrence Journal-World. All rights reserved. This material may not be published, broadcast, rewritten or redistributed. We strive to uphold our values for every story published.