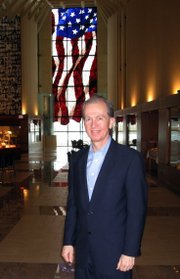 Walt Riker has made a career out of telling stories.
First through music, then as a TV reporter and then helping to shape stories as U.S. Sen. Bob Dole's press secretary and as spokesman for the McDonald's corporation.
Born in the Bronx, Riker graduated from Kansas University in 1970 with an English degree and spent years touring around the country as a drummer in a band. He returned to KU to earn another degree in journalism.
He worked at KJHK radio station and got a job as a TV reporter at WIBW in Topeka.
Retired, he lives in a suburb of Chicago.
Now, he's back on campus, serving as a Dole Fellow this semester, along with former U.S. Rep. Dennis Moore. That means Riker hosts weekly sessions on corporate responsibility that students and members of the public can attend.
Bob Burkhart, of Lawrence, attended one last week and said he appreciated Riker's contributions.
"He's got an authentic style," based on his vast experience, Burkhart said.
Bill Lacy, Dole Institute director, got acquainted with Riker in 1986 and said he's been planning on bringing him back to campus for a couple of years now.
"A lot of our fellows really come from the political world," Lacy said. "Walt has 17 years in the corporate world, too. We're always looking to come up with different areas to explore."
Riker got interested in politics as a reporter and became acquainted with several politicians, which eventually led to an opportunity to become Dole's press secretary.
"Little opportunities, little openings, little decisions end up being major decisions," he said. That's one message he hopes to convey to students this semester — to get out of their comfort zones and always be watching for new opportunities.
Working for Dole was a rush, and as press secretary, he was on call 24-7. On the first hour on the job, he fielded a call from Lesley Stahl at CBS News.
He still has lots of good memories and lots of good stories. The one where they met Egyptian dictator Hosni Mubarak so he could dial Saddam Hussein to arrange a meeting between a Senate delegation and the Iraqi leader. The one where he met the pope in his throne room. And the one where Dole would always gently correct his grammar and wording on his press releases.
He would hold that position from 1981 until 1993. Leaving politics was hard, Riker said.
"Everything, literally, in the world seemed to run through the U.S. Senate, and Dole was in the middle of it all," Riker said.
But in the end, Washington jobs don't pay as well as the private sector, and Dole kept his salaries low, Riker said. He would spend the next 17 years at McDonald's and for much of that time served as the company's chief spokesman.
Lots of stories there, too, including the 4 a.m. phone call in 2004 at a company-wide convention in Orlando that told him CEO Jim Cantalupo had died. By 6 a.m., the company's board had already nominated a new CEO, and Riker was in a hotel room writing the press release, which became immediate worldwide news.
"There's a reason why McDonald's is McDonald's, and it's people," he said, saying the company depends on good people at all levels of the organization to make it go.
He was also involved in the turnaround McDonald's experienced in the early part of the last decade, he said.
"When we opened our ears and saw the direction consumers were going, they wanted more choice and variety," Riker said.
The company expanded its menu options, adding premium salads and yogurt, all the way up to today, when McDonald's breakfast options include oatmeal, he said.
He said he is excited and humbled to be back at his alma mater this semester.
"Every time I see the hill from I-70 driving in from the airport, I get excited," he said. "There's a magic to Lawrence, Kansas, that I can't describe."
Copyright 2018 The Lawrence Journal-World. All rights reserved. This material may not be published, broadcast, rewritten or redistributed. We strive to uphold our values for every story published.