Photo Gallery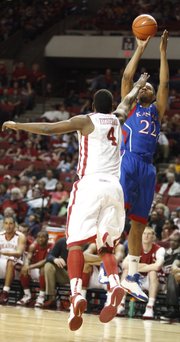 KU vs. Oklahoma
Press Conferences & Post-Game Interviews
KU coach Bill Self
Kansas coach Bill Self talks to reporters following the Jayhawks' 82-70 victory over Oklahoma on Feb. 26, 2011.
Press Conferences & Post-Game Interviews
KU players Tyrel Reed and Marcus Morris
KU players Tyrel Reed and Marcus Morris talk to reporters following the Jayhawks' 82-70 victory over Oklahoma on Feb. 26, 2011.
Norman, Okla. — Cole Aldrich of the Oklahoma City Thunder joined 200 or so fellow Kansas University basketball fans in an impromptu celebration 10 minutes after the Jayhawks' resounding 82-70 victory over Oklahoma on Saturday in Noble Center.
The score — Colorado 91, Texas 89 — flashed on the center scoreboard, informing the lingering spectators that KU had moved into a tie with UT for first place in the Big 12 standings with just two games left on the schedule.
"I rarely pull for anybody to win or lose, (but) I was happy to see a KU alum get a big win today," KU coach Bill Self said, referring to coach Tad Boyle and his Buffaloes.
"At least it puts it back in our court where we can control our own destiny in our league. To me, winning league is a big deal," added Self, whose Jayhawks (27-2, 12-2) have won six straight conference crowns. "To have a chance to win it is our goal every year. Our path is hard. This is probably a better scenario than I ever imagined for us (after falling two games back)."
The Jayhawks will play host to Texas A&M; at 8 p.m. Wednesday on Senior Night for Brady Morningstar, Tyrel Reed and Mario Little, then travel to Missouri on Saturday.
Texas (24-5, 12-2), which beat KU in Allen Fieldhouse, plays host to Kansas State on Monday and travels to Baylor on Saturday.
" Big, real big," KU sophomore guard Elijah Johnson said of the magnitude of the Longhorns' loss to CU. "We don't know how big yet, but it could be as big as ... I don't know. We'll find out."
Johnson could be forgiven on this particular day for struggling to complete that thought.
He was elbowed in the neck by OU's Cade Davis, who was fouled by Johnson in hitting a three with 14:55 left. Johnson headed to the locker room, where he had X-rays taken.
The pictures showed no injury, and Johnson returned to the court with 4:39 left. He was accompanied by a team doctor as well as Angel Morris, mother of the Morris twins, who'd gone back to check on Johnson.
"When he released, on his follow-through, he came down on my neck," said Johnson, who started his second straight game in place of the suspended Tyshawn Taylor. Johnson had five points and one assist in 16 minutes.
Asked if his injury felt like a football "stinger," the colorful Johnson grinned and said, "I have another analogy for it. You know when you go to Chuck E. Cheese's, they give you a hammer and you bop some people on the head? It kinda feels like that's what happened to my neck. It's nothing to worry about. I'll get treatment on it and be back."
KU coach Self said Johnson, "Got his bell run, hurt his neck. I don't know how a guy hurts his neck when he fouls a guy on a three-point shot. He fell and did something to his neck. He was complaining enough they had to do an X-ray. He's fine. He could have gone back in. He's fine."
Thomas Robinson also provided a bit of a scare when he banged his surgically repaired right knee on a Sooner and had to leave the game for a couple of minutes in the second half. He's also "fine," Self and Robinson indicated.
As far as Saturday's game, the Jayhawks turned in a near-perfect first half in hitting 17 of their first 22 shots — 17-24 by halftime, including six of 11 threes in building a 45-33 lead.
The Morris twins combined for 20 points off 8-of-10 shooting the first half. Marcus Morris finished with 23 points off 7-of-10 shooting and Markieff 19 points off 7-of-11 shooting.
"Offensively, the first half we were terrific," Self said. "We missed two shots inside the arc the first half. We shoot 71 percent and we look up and are up 12. We didn't guard."
The Jayhawks led by as many as 21 (58-37 at 17:23) and as few as 11 (75-64 at 3:26) in a less-than-dramatic second half.
The big story here was the league race.
Did Josh Selby like the Jayhawks' chances after a loss to Kansas State on Feb. 14 dropped KU two back of the Longhorns?
"No," Selby said, "but I didn't give up faith, either. Every team wants to be on top. This will motivate us."
Noted Marcus Morris: "We still have two tough games to go. Just because we got that break today doesn't mean it's over."
Johnson grinned when asked what's the ultimate goal for KU: winning the Big 12, getting a No. 1 seed in the NCAA Tournament or perhaps something else?
"I want us to be in the best situation possible. That's the biggest goal now," he said. "We want to be in the best situation. Whatever that means, that's what we want to do."
Copyright 2018 The Lawrence Journal-World. All rights reserved. This material may not be published, broadcast, rewritten or redistributed. We strive to uphold our values for every story published.