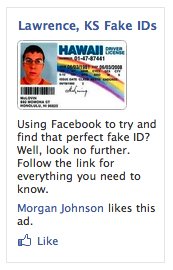 Inside Fake ID 101
• Who's on the New Tradition Coalition: Advocates against drug and alcohol abuse, law enforcement, local school and health officials, plus parents.
• Who's looking for fake IDs: Lawrence police, the state's Alcoholic Beverage Control, the KU Public Safety Office and Douglas County Sheriff's Office.
• How it's funded: The Kansas Department of Transportation has awarded a grant.
• The education component: In addition to posters and ads, the coalition also used Facebook ads about fake IDs to direct attention to its website to give youths and parents more information.
-->
The Facebook ad targeted Lawrence area youths who might be looking for a fake ID.
Apparently, the power of advertising works.
A total of 5,247 people between the ages of 16 and 20 clicked on the ad that featured a fake ID using the character "McLovin'" from the movie "Superbad" during a 60-day period last semester.
But instead of getting a chance to obtain a fake ID that could be used to try to buy booze at Lawrence liquor stores and bars, people who clicked on the ad were directed to a website: the New Tradition Coalition of Lawrence, which combats alcohol abuse and underage drinking.
Coalition members said interest in the Facebook ad clearly illustrates the demand for fake IDs and the prevalence of underage drinking in Lawrence, particularly among Kansas University students.
"That bothered me because that many kids actually clicked on it because they were thinking they were going to get a fake ID," said Jen Jordan, director of prevention for DCCCA. "We know that underage drinking is an issue in Lawrence and at KU and other colleges. We're just trying to address it."
Among the efforts is a project dubbed Fake ID 101.
Last spring — in the first installment of Fake ID 101 — enforcement tactics were a bit too obvious, said Trent McKinley, Lawrence police's neighborhood resource officer. There was little doubt among underage drinkers what was happening when uniformed officers entered bars to check IDs.
"That's pretty easy for kids to defeat," McKinley said. "So we tried to change it up a little bit."
In last fall's second installment of Fake ID 101, coalition members and law officers expanded their reach. And they saw results.
Stepping it up
Here's how it worked:
• Uniformed officers did traditional bar and restaurant checks.
• Officers in plain clothes spread out, checking out people as they entered bars and working as liquor store clerks, checking IDs. The coalition also trained servers and liquor-license holders on spotting fake IDs.
"Even those really great looking fake IDs, when you run them through the computer, they can come back to an 85-year-old person who may be deceased," McKinley said.
• Officers made traffic stops.
• They were out on foot, patrolling Kansas University and the Oread neighborhood on football game days.
• They targeted parties in houses or at apartments, said Karen Price, an agent with the state Alcoholic Beverage Control.
The variety was important.
"They never knew what night we were going to do it and especially what we were going to do," McKinley said.
And having officers in plain clothes was key. In a bar, for example, an underage patron might walk away from his or her beer and hide in the bathroom while uniformed officers checked IDs. Once the uniforms leave, the underage patron goes back to the alcohol.
Here are results from the nine nights that officers were out last fall:
• Checked 731 people's IDs.
• Wrote 105 citations to minors in possession of alcohol.
• Wrote 60 citations for fake IDs.
"I think people were more apprehensive about going out and trying to use a fake ID and trying to go and consume alcohol in a bar," McKinley said.
During the first Fake ID 101 last spring, officers went out four nights and cited 37 people for a total of 48 violations involving alcohol.
The future
Rick Renfro, who owns Johnny's Tavern in North Lawrence, said nonuniformed officers visited his bar three times in a three-week period.
"They kept us well-informed of what they were going to do," said Renfro, a member of the New Tradition Coalition. "They gave us good educational materials. That's what it's all about."
He said the operations can be helpful because it's hard for bars to catch every person using a fake ID.
"Even though we try to educate all of our door guys, and even though we try to pay more than the minimum wage and threaten them with losing their jobs, it's impossible — they're college kids," Renfro said.
While he supports efforts to educate students and parents about underage drinking, he believes the best solution is to lower Kansas' drinking age.
"I think everybody's just spinning their wheels until we tackle the main problem, which is the actual age itself," he said.
Shane Millhouse, a 21-year-old KU student, said he thought fake IDs were "very easy" for underage students to get, usually if someone of age misplaces their driver's license in public.
He has seen only one person at a bar caught with a fake ID and said it was a difficult problem for police to get a handle on, unless they had officers in plainclothes in bars or were checking IDs at the door themselves.
"That's about the only way to control it," Millhouse said.
Teach your children
The idea behind the coalition is about more than just enforcement. Jordan, with DCCCA, said she encourages parents to talk to their children about alcohol when they are in junior high because data indicates some students can start drinking as early as 13 or 14.
"It's never too late, but it's also never too early," she said.
The Kansas Department of Transportation has agreed to fund a third Fake ID 101 in Lawrence next fall. Already, coalition members are planning.
"I think each time we do it we're getting better and better at how it's done," Jordan said, "and working together."
Copyright 2018 The Lawrence Journal-World. All rights reserved. This material may not be published, broadcast, rewritten or redistributed. We strive to uphold our values for every story published.