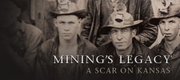 The mining industry that once sustained Cherokee and Crawford counties has been dormant for decades. But its legacy still lives in the landscape and in the people of southeast Kansas.
COLUMBUS — A trust fund for the contaminated southern Kansas town of Treece is asking the governor to allow it to provide at least another $5,000 to each property owner.
The Treece Relocation Assistance Trust on Thursday approved basing offers to property owners on an average of three appraisals plus 20 percent. The minimum increase would be $5,000 and the maximum would be $10,000.
The Joplin Globe reported that the new formula would be applied to all future offers, and past offers would be adjusted.
The Environmental Protection Agency allocated $3.5 million to relocate Treece residents who want to leave the town to escape contamination from decades of lead and zinc mining.
Many residents have complained that the offers from the trust fund are too low.
Copyright 2018 The Associated Press. All rights reserved. This material may not be published, broadcast, rewritten or redistributed. We strive to uphold our values for every story published.