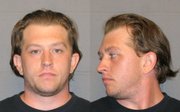 A 29-year-old Lawrence man was sentenced to life in prison on Friday for having sex with a 6-year-old girl over a two-year-old period.
"This is a very serious offense. This was a young girl," District Judge Michael Malone said to defendant Steve A. Williams. "What makes it worse is the fact that there was a trusting relationship there."
Williams had pleaded no contest in November to rape of an extended family member, and Malone sentenced him to serve 25 years to life in prison. Williams will also concurrently serve a three-year sentence after he was convicted of exploitation of a child for possessing child pornography of another child who was younger than 18.
He had lived with his mother in north-central Lawrence before Lawrence police officers arrested him last June. Family members have said the exploitation charge stemmed from Williams showing the DVD containing child pornography to another family member. A relative turned the DVD over to police, which spurred the investigation.
Defense attorney Jessica Kunen had asked Malone to give Williams a lesser prison sentence saying that he cooperated with investigators, had a minimal criminal history and had been sexually abused himself as a child.
"He has accepted responsibility for his actions and has shown remorse," Kunen said.
But District Attorney Charles Branson said the severity of the crime and the fact it went on for two years, from the time the victim was 4 years old, warranted a life sentence.
"Mr. Williams understood his behavior was wrong, but he kept going back to this behavior and would revisit the victim in this case under his own admission, as he indicates this went on for several years," Branson said.
Williams declined to speak during the hearing, but the victim's stepmother said her children hate what happened but still loved him. She also expressed sympathy for him because he was sexually abused as a child.
"In a way, thank you for admitting it when you did get caught instead of trying to deny it," the girl's stepmother said. "But you have to live with this the rest of your life."
Copyright 2018 The Lawrence Journal-World. All rights reserved. This material may not be published, broadcast, rewritten or redistributed. We strive to uphold our values for every story published.