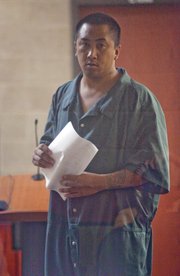 A judge sentenced a 28-year-old Lawrence man to serve a total of about seven years in prison for firing a gun and injuring six people last August at a south Lawrence apartment.
District Judge Michael Malone handed down the sentence Friday afternoon to Sinh Lavongsa, who had pleaded guilty to six counts of aggravated battery in December for an Aug. 1 shooting at The Exchange, 3100 Ousdahl Road.
Prosecutors alleged Lavongsa fired a handgun at a man in the doorway when the man yelled a racial slur at him, but they say he fired eight times and hit five other people who were either inside or near the apartment. None of the victims' injuries was life threatening.
Defense attorney Craig Stancliffe had asked Malone to allow Lavongsa to serve all of his sentences concurrently — which would have given him a total of three years and seven months in prison — because Lavongsa is expected to be deported to Thailand, where he is a citizen, after he finishes his prison sentence. But Malone followed a recommendation from prosecutor to have him serve the sentences for each count consecutively.
"There is a real issue of justice in that we have separate victims for which there are separate convictions," assistant district attorney James McCabria said.
Malone gave Lavongsa credit for the nearly seven months he's already spent in jail and ordered him to pay $7,500 restitution in the case.
Copyright 2017 The Lawrence Journal-World. All rights reserved. This material may not be published, broadcast, rewritten or redistributed. We strive to uphold our values for every story published.