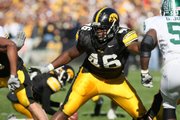 Every year at the NFL combine in Indianapolis, there's a player or two who wows the scouts by running a blazing-fast, 40-yard dash time or turns in some kind freakish showing in the weight room.
Usually, it's a lesser-known wide receiver or a running back whose guns match his wheels.
This year, that player could be one who calls Lawrence home.
University of Iowa defensive tackle Christian Ballard, a former Free State High standout and Lawrence native, will hit the combine today for the first of three days of sprinting, scoring, testing and talking that will determine his NFL future.
According to ESPN draft gurus Mel Kiper and Todd McShay, Ballard is among the top five or six defensive tackles available in this year's draft. In one of Kiper's mock drafts, Ballard was tapped as a first-round pick, No. 29 overall.
Those numbers are based largely on game film and Ballard's stats. Once the combine is completed, the rankings take on a new look, and the fun will begin. Iowa coach Kirk Ferentz, one of Ballard's biggest fans, said his former player's performance at the combine could turn the one-time Firebird into one of the hottest commodities in the draft.
"It won't hurt him, that's for sure," Ferentz told the Journal-World. "He's a player that will benefit from going to the combine. He's got very impressive measuarables, and, on top of that, the most important thing is the game tape. You watch him on film, you see him do a lot of things that are really impressive."
During his four seasons at Iowa, of which he started for three-and-a-half, Ballard, 6-foot-5, 297 pounds, amassed 152 tackles, 12.5 sacks and 21.5 tackles for loss. That included his monster junior year, in which he recorded 54 tackles and 9.5 sacks while helping lead Iowa to a victory in the Orange Bowl.
"I think he's got a great future," Ferentz said. "He had an outstanding career here."
Ballard, a three-sport standout at Free State High, originally committed to Kansas, but later backed out because of the opportunity to play tight end at Iowa. He started his Hawkeye career at his favorite position, but was moved to defense when Ferentz realized how disruptive his combination of size, strength and speed could be.
"He came here as a tight end. A 265-pound tight end," Ferentz said. "And I think it would've been realistic (for him to play tight end). He's one of those guys that could've played several different spots and played them very, very well."
Now all Ballard has to do to ensure himself a chance of playing on the game's biggest stage is run fast, jump high and flash his signature smile.
"He's just a rare combination," Ferentz said. "He's got excellent size, very rare athleticism for that size, and he's got a great personality and great demeanor."
This year's combine opened Wednesday. It will run through March 2. Ballard and the rest of the defensive tackles invited to this year's event will begin their portion of the festivities today and wrap up Monday.
The first order of business at the combine is to put players through a series of off-the-field exams. Drug tests, physicals, body measurements, psychological tests, media interviews and, of course, the infamous Wonderlic intelligence test all will take place first.
After that, the athletes will get to flash their physical skills, all of which will be heavily observed — and scrutinized — by NFL coaches, scouts and team doctors. Included among the physical drills are: bench-press tests, 10-, 20- and 40-yard dashes, vertical-jump tests, broad-jump tests and agility drills such as the 20- and 60-yard shuttle drills and cone drills, which measure lateral quickness and body control.
Copyright 2018 The Lawrence Journal-World. All rights reserved. This material may not be published, broadcast, rewritten or redistributed. We strive to uphold our values for every story published.