Name: Tomo Mizuno
Age: 24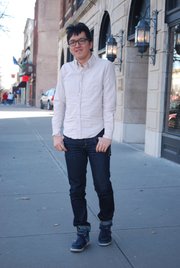 Sign: Cancer
Occupation: Student, DJ
Relationship status: Single
Hometown: Nagoya, Japan/Irvine, Calif.
Time in Lawrence: 1 year and 2 months
What were you doing when you were scouted? I was on the way to Henry's.
How would you describe your style? Very Japanese-y, sometimes.
What are your favorite fashion trends? Flannel shirts, '80s clothing, fast fashion brands and up-and-coming Soho brands.
What are your least favorite fashion trends? Camouflage and military items.
What would you like to see more of in Lawrence? Guys wearing skinny jeans.
What would you like to see less of in Lawrence? Hoodies and sweatpants.
Do you have any piercings/tattoos? No.
Do you have any fashion influences? Marc Jacobs, Alexander Wang, Kanye West, Taz Arnold, Verbal (M-Flo/Teriyaki Boyz), Karl Lagerfeld and Junya Watanabe.
People say I look like... the Asian guy from "Heroes," Masi Oka.
Tell us a secret: I have men's Ugg boots.
Copyright 2018 The Lawrence Journal-World. All rights reserved. This material may not be published, broadcast, rewritten or redistributed. We strive to uphold our values for every story published.