Name: Laura Asmussen
Age: 22
Sign: Gemini
Occupation: Student and server at Maceli's
Relationship status: Twitterpated.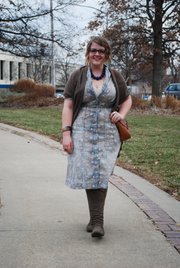 Hometown: Agar, S.D.
Time in Lawrence: 3 years
What were you doing when you were scouted? Walking to the public library.
How would you describe your style? I tend to wear feminine pieces and unique accessories, and I often mix vintage clothing with new apparel.
What are your favorite fashion trends? I believe in the importance of pockets and I dig neckties, probably because I recently learned how to tie them.
What are your least favorite fashion trends? I live in pajamas when I'm at home and I love them — who doesn't? But I don't think they should leave the house. Also, you should not wear things with pom-poms unless you are a Popple.
What would you like to see more of in Lawrence? Dog-friendly businesses and downtown grocers.
What would you like to see less of in Lawrence? Big box stores.
Do you have any piercings/tattoos? Yes.
Do you have any fashion influences? My grandma. She was a sassy lady with a great taste for costume jewelry.
People say I look like... My momma.
Tell us a secret: I'm a nerd for trivia.
Copyright 2018 The Lawrence Journal-World. All rights reserved. This material may not be published, broadcast, rewritten or redistributed. We strive to uphold our values for every story published.