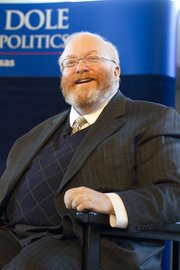 By the time Kansan Dwight D. Eisenhower was elected in 1952, he had accomplished so much in his career the presidency could almost be considered an epilogue, presidential historian Richard Norton Smith told a packed house Wednesday night at the Dole Institute of Politics.
"He was a reluctant president, and he turns out to have been in fact an extraordinary skillful politician," said Smith, who made the case for Eisenhower's place on a 20th century Mount Rushmore.
Smith, the Dole Institute's first permanent director, recounted several anecdotes about Eisenhower, who grew up in Abilene.
It took a nudge from Thomas Dewey to convince Eisenhower to run in 1952 because, Smith said, the New York governor told the NATO commander — who was immensely popular for, among other things, planning the D-Day invasion — there was a "distinct possibility" the GOP might be forced to turn to Douglas MacArthur.
The style of MacArthur, who was more flamboyant, contrasted greatly with Eisenhower's nature, and it created some tension between the two, although historians say Eisenhower did learn lessons from MacArthur.
"He learned what to avoid in some ways, but he acknowledged MacArthur's brilliance," Smith said.
Like Smith's talks in recent weeks on Ronald Reagan and Franklin Delano Roosevelt, staff at the Dole Institute, 2350 Petefish Drive, Wednesday night had to set up an overflow room to handle the overall crowd of more than 300 people.
Smith lauded Eisenhower's work on the interstate highway system, fiscal conservatism and decision to intervene to help desegregate Little Rock Central High School in 1957, but he also mentioned Eisenhower's "second term jinx" and difficulties with the Cold War.
Smith will conclude the Dole Institute series on the 20th century Mount Rushmore at 7:30 p.m. today when he discusses his final choice, Woodrow Wilson. The talk is free and open to the public.
Copyright 2017 The Lawrence Journal-World. All rights reserved. This material may not be published, broadcast, rewritten or redistributed. We strive to uphold our values for every story published.