On the street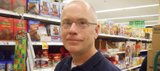 I don't see a reason why it should.
Leaders of the Lawrence Community Shelter cleared one hurdle Wednesday night to allow the homeless shelter to remain downtown — and expand the numbers it can serve — while it searches for a new location.
Lawrence-Douglas County planning commissioners recommended approval of a one-year extension of the shelter's permit that allows it to operate at 10th and Kentucky streets after a Douglas County District Court ruling has all but killed plans for the shelter to move to a site near the county jail. It also approved a request to increase the maximum occupancy of the building to 82 people. Currently the building can serve 82 during cold winter months but has been limited to 57 people from April through September.
"It seems like this provides a humane service but also some protection to the community that people will be taken care of in a warm bed instead of wandering around the community," said Planning Commissioner Bruce Liese.
The Planning Commission's recommendation now will be forwarded to the Lawrence City Commission, which will make the final decision on the permit extension.
Planning commissioners recommended approval on a 6-1 vote, after hearing from several supporters of the shelter who urged approval of the permit and one longtime neighbor who said the shelter had been allowed to operate too long in the neighborhood.
"We have to do something to motivate them to move into a larger location," said Planning Commissioner Charlie Dominguez, who voted against the request. "We can't just keep coddling them every time they come here for an extension."
Shelter director Loring Henderson told commissioners that the shelter still plans to move from the site and has made it a goal to identify a new location this year.
After the meeting, Henderson confirmed that the shelter has begun looking for new sites and that it is not considering an appeal of the court's recent ruling.
"An appeal takes years, and we don't have that kind of time," Henderson said.
Copyright 2018 The Lawrence Journal-World. All rights reserved. This material may not be published, broadcast, rewritten or redistributed. We strive to uphold our values for every story published.