Photo Gallery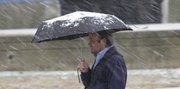 Rain, snow, sleet fall in Lawrence Feb. 24
A wintry mix blasted through Lawrence Feb. 24 brining rounds heavy rain, some snow and some sleet.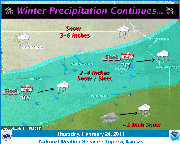 Kansas weather updates, via Twitter
10:47 p.m. update
The winter storm warning is set to expire at 11 p.m. While no serious injury accident have been reported, numerous motorists have reported sliding from the roadway or getting stuck in the loose precipitation.
The Kansas Department of Transportation is listing all major roads in the area, including K-10 and I-70, as mostly or completely snowpacked.
The snow is expected to taper off by midnight.
8:20 p.m. update
Just before 8 p.m., weather spotters for the National Weather Service reported 3.4 inches of snow in western Lawrence.
Multiple accidents have been reported on city streets, especially along Bob Billings Parkway and Sixth Street, where LJWorld.com reporter Joe Preiner counted eight stranded vehicles between Massachusetts and Iowa streets.
City and state officials are encouraging drivers to stay off the roads until the storm has passed.
6:43 p.m. update
The National Weather Service in Topeka has extended the winter storm warning for Douglas County through 11 p.m. Thursday evening.
The rain and sleet that had been falling over the area has turned into snow and is expected to continue until midnight. Snow accumulation is expected to fall in the 2-5 inch range during the next few hours. Visibility is not ideal, with visible range for motorists around a quarter mile.
The snow should taper off by midnight as the storm system moves through the area.
The NWS predicts driving conditions could become dangerous as the night wears on so motorists should use caution and be mindful of other drivers.
6:22 p.m. update
Large snowflakes are falling in Lawrence, accumulating in mounds of slush on the roadways. Visibility is limited because of the precipitation and roads are getting slick in areas. Motorists should drive slowly and allow more space between them and the next vehicle.
Temperatures tonight aren't expected to drop much below freezing, which should help city crews in clearing and treating local streets.
4:35 p.m. update
Street maintenance crews have already begun running 24-hour operations in anticipation of the snow and sleet that is expected to accumulate during the next several hours.
The wintry mix is part of the winter storm warning in effect for Douglas County. According to the National Weather Service in Topeka, no ice is expected to accumulate for the remainder of the afternoon, but snow is likely before midnight, with between 2-4 inches of snowfall possible.
Lawrence communications manager Megan Gilliland said motorists should slow down and be mindful of their surroundings. Drivers should also allow for more traveling time.
1:28 p.m. update
Crews from the City of Lawrence are out treating the streets in town with sand and salt in an effort to keep the roads safe for traveling.
As of about 1 p.m., roads were easy to travel, though some fender-benders had been reported. Motorists are advised to slow down and exercise caution when traveling tonight.
Also, the National Weather Service has pulled back from its forecast of 3 to 6 inches of snow for our area and reduced it to 2 to 4 inches, with the lower end of the range most likely in the Lawrence area.
11:15 a.m. update
A round of large snowflakes and sleet passed through Lawrence just after the morning commute. Several accidents were reported on I-70 west of Lawrence, though none were reported to involve major injuries.
5:45 a.m. update
The National Weather Service has upgraded the winter weather advisory to a winter storm warning for the following counties:
Brown
Clay
Dickinson
Douglas
Geary
Jackson
Jefferson
Lyon
Morris
Nemaha
Osage
Ottawa
Pottawatomie
Riley
Shawnee
Waubaunsee
The warning is effective from 6 a.m. to 9 p.m. Thursday. The winter weather advisory is no longer in effect. The NWS expects freezing rain to begin by late morning before changing to sleet and then snow by late afternoon.
Accumulations of 3-6 inches of sleet and snow are possible before precipitation ends about midnight.
Driving will become hazardous by the afternoon. Allow for extra time on the roads. If possible, postpone travel plans.
11:49 p.m. update
The temperatures tonight in Douglas County are expected to hover around the freezing point, with winds gusting to 10 miles per hour.
The winter weather advisory will go into effect about 8 a.m. Thursday and will continue through 9 p.m.
The wintry mix is expected to fall in the area with 1-3 inches of snow and sleet accumulation possible. Freezing rain is also possible. The National Weather Service in Topeka predicts the wintry accumulation may make travel difficult with slick roads and diminished visibility.
4:11 p.m. update
The National Weather Service has issued a winter weather advisory for Douglas and surrounding counties effective Thursday, Feb. 24 from 8 a.m. to 9 p.m.
The advisory also includes Leavenworth, Jefferson, Johnson, Osage and Shawnee counties.
Expect snow and sleet to fall throughout the day Thursday. The heaviest precipitation will most likely happen during the afternoon and evening.
Total accumulations will be 1-2 inches with winds from 10-15 mph.
Be prepared for slippery roads and limited visibility, as the sleet and snow will likely make travel difficult.
Copyright 2018 The Lawrence Journal-World. All rights reserved. This material may not be published, broadcast, rewritten or redistributed. We strive to uphold our values for every story published.